BUSTED!
July 30th, 2008
Ha ha ha. Shweet.
Dis one I HAVE to share! 
You hear all of us bitchin' and moanin' about traffic and drivers who no can obey da laws and act impatient.
I dunno why but yesterday I decided to bring my (well, Da Wife's) camera thinking there may be something interesting to take photo of.... 'a'ole.
At least not until the drive home.
I guess I had a premonition or something but fo' some reason I had the camera by my side near the stickshift, cover half way off and ready to go like a paniolo gunslinger. We drive up the viaduct and fly along. Then a truck - going slower than posted speed limit - decides to just change lanes right into our car pool lane slowing everybody down.  I start reading the sticker on the red Dodge Ram pickup, "Uso Powered" and noticed a really dark tint - ok, not going say nothin'.
Oh wait, the tint is moving. Oh. Get choke people in there with ehu hair blocking da entire rear window.  
So I change lanes to pass and get well ahead of them then as we hit the ZipMobile house notice again there isn't any police there - hasn't been in choke long time, the longest stretch evah like maybe two months. So I already know going get cheaters (wat's new?).
Traffic slow down at the usual spot right aftah and moving along den all of a sudden da car in front of me gives us a hard break check.... WTF?!
I see dat! We all know wat dat means! Our trusty men - & women - in blue stay up front.
Noooooo! You dumb green Element! No let 'em in! Nooooooo!
WASSAP WIT DAT! 
Stink eye time.....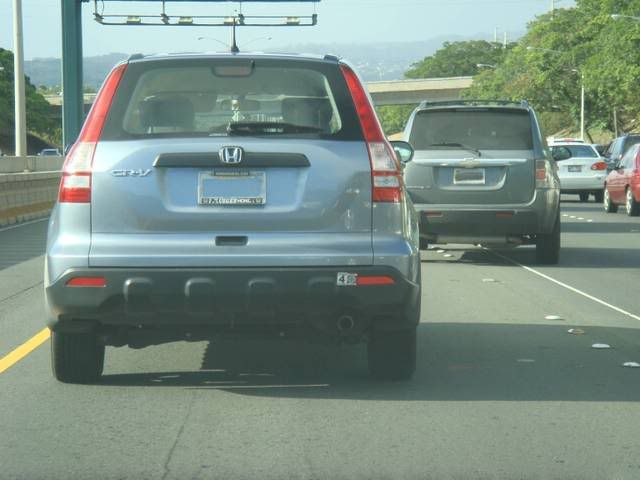 Woooooo you fricka! You lucky dis time!
Ho! Wat da heck you doin' tryin' fo'.... cut back in?!
Wop yo' jaw!  Ha ha ha! 😆
BUSTED!
You still got pulled ovah!
Classic Brah!
If you look closely, even da cop stay laughing.
... Good thing I had da camera yeah?