As some of you have read by now, Uncle Rodney from "Midlife Crisis", Queenie from "Odds & Ends" and myself had the pleasure of meeting a long time reader and poster of our respective blogs IRL (in real life).
Spooky? Of course.
Nuts? Maybe.
But being dat Ynaku has been a faithful reader, I can fairly say we've all gotten to "know" him by his posts. Funny how da internet can bring people together - and we nevah even use eHarmony!  😆
So it all started with Queenie and Ynaku exchanging food comments on a few blogs and one thing led to another. I get an email from Ynaku asking if we were going to be in on Monday and unfortunatly Queenie was off. Ynaku offered to drop off da goodies or we could meet him at a job site in Moanalua and since I knew the area, I offered to pick 'em up... and tough luck to Queenie.  😛
So Monday comes and I ride ovah jus' before 3:30pm and see no one. I ring da bell and a worker steps out and I ask,
"Excuse me. I'm, uh, supposed to meet someone." (kinda looking at him hoping it was Ynaku)
"You know who? I'm the only one here."
"Oh. His name is Yn.... (wat da heck was his real name?! WWD!) Eh, nevah mind."
"_ _ _  just left a few minutes ago."
"YEAH! Dat's him! From Big Island right?"
"Yup. He said he had to meet some people and went to their office."
"($h!t) Dat's cool. I'll head back right now."
"Try wait. I'll give him a call.....(dialing) Hey _ _ _, get somebody ovah hea asking for you. You stay at their office already?"
"Mahalos! (zooming away)"
As I walk into da lobby, I see three huge grins staring at me. Ok, they were laughing.
"Eh, I thought I was supposed to pick 'em up?"
Queenie: "You didn't read your email?"
"I did! Wen I wrote last last I was supposed to pick 'em up."
Ynaku: "No, I thought I wrote I'd meet up with you guys after."
"Did you? You guys probably right. See dat's wat happens wen you barely pass English and go into finance instead."  😳
Ho da shame!
I wen reread da email and yup, smack dab in da sentences were, "I'll be by at 3:30pm".
Sorry, my bad.
Ynaku, as Uncle Rodney said, is a "gentle, down to earth (guy) with a big heart". No doubt about dat! It was cool to meet "Uncle" Ynaku and it was very generous of him to bring us da goodies! I wen pound 'em wen I went home... yeah, wit Da Wife of course.
And why did I wait till Friday to blog about it? Cause Ynaku said he wouldn't be home to use da computer till then....
at least dat's wat I heard.  😉
Yeah, we all got da same pic but used different cameras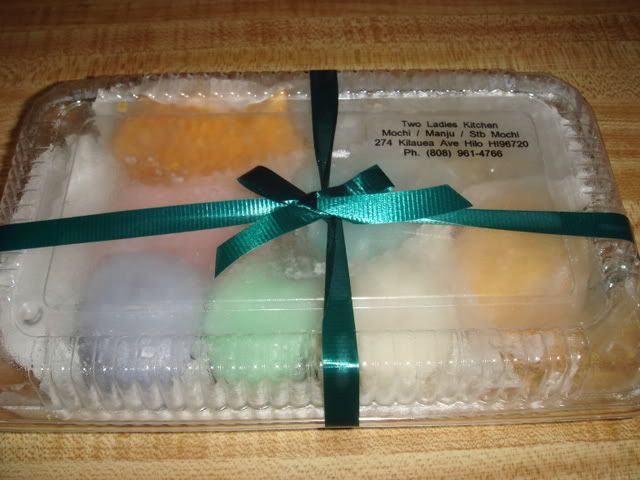 Mochi manju variety pack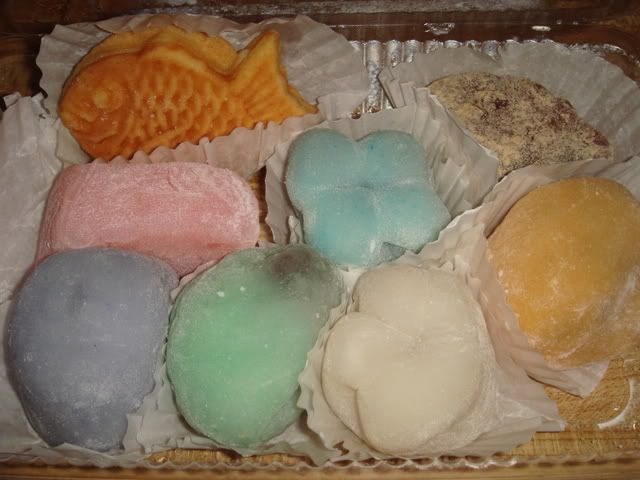 Au' kine mochi manju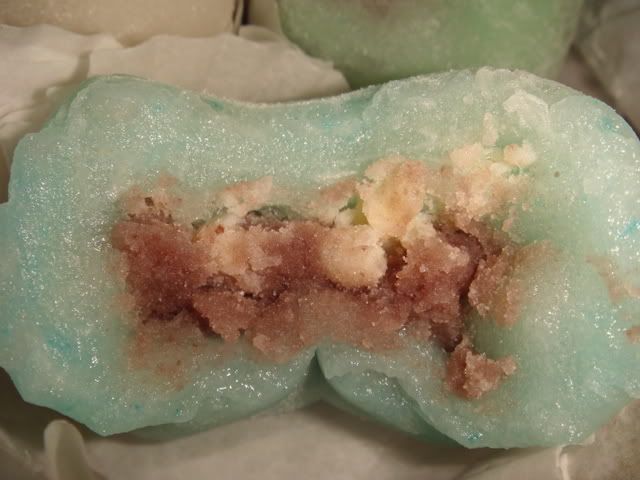 Azuki bean middle... dunno wat da white stuff is but was ono
Dis was onolicious! Mochi covered strawberries with azuki filling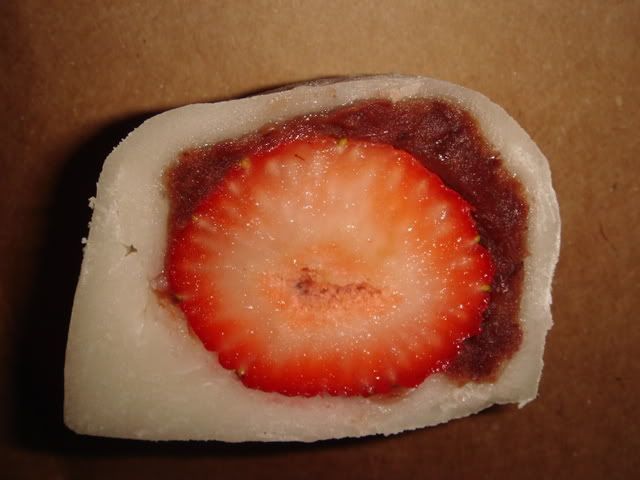 Hea's da insides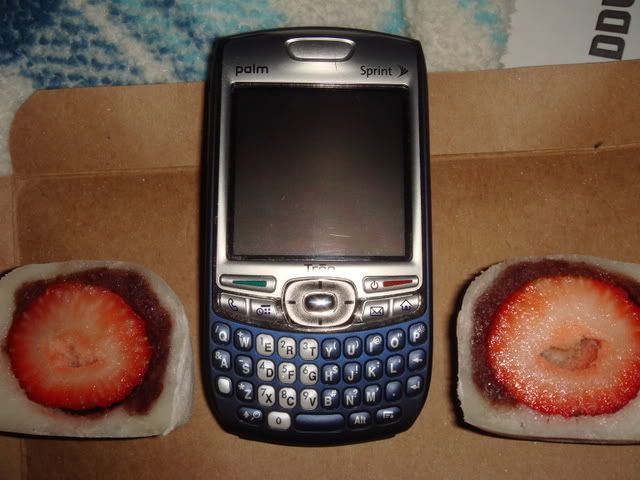 Da buggah was hugemangeous!
MUCH MAHALOS YNAKU!
DA PIDGIN WORD OF DA DAY! -

(as quoted from Da Kine Dictionary & Pidgin To Da Max… wit a Braddah Lance twist)
ONO
also ONOLICIOUS
(OH no)
Haole Translation 1: Delicious, taste good
Haole Translation 2: Look good
Use: Usually wen speaking of food or good things
Sentence: "Da manju was frickin' ono!"
Sentence: "How's dat chic, she ono yeah!"