Hey, I No Sandbag - It Just Felt "Good"!
November 21st, 2008
Last Saturday I had the pleasure of golfing... for the first time in almost a year.
I don't know about most people but I hate going to a course without "warming up"... especially if I'm actually paying to play - well, that actually goes for any sport.
My friend, Vice-principal Sam (promoted a few years ago but I only heard about it now - Congratulations Sam!), puts on a "mini-tournament" for friends every year. I've heard about it but never been invited 😥 so when I got an email, text and call last month... I figgah'd he must have been desparate and needed to fill slots.  😆
Really, he's a good friend we're part of the same crowd... sort of. Our Moanalua hui is quite large and within that hui, we get our own "groups" and we pah-tay together once in a great while but I haven't seen him along with a few other friends in choke long time.
So I save the date and tell Da Wife I "got plans" for that day and that's that! .......Ok, so I asked and she said it was ok.  😳
Our tee time wasn't till 12:15pm but we had to meet at Ewa Beach Golf Course (New Ewa) at 11:15am. So that meant I had enough time to hit a few balls at the range next door to warm up.
Let me tell you. If my warm-ups were any indication of how I'd be playing, I would have gone home after the first few balls hit. It was not looking good and the weather wasn't helping either - very humid and no wind (it also rained on us on the final three holes of the game).  😡
Even my friend was shaking his head.
After we meet and greet everyone, we're off to the first tee.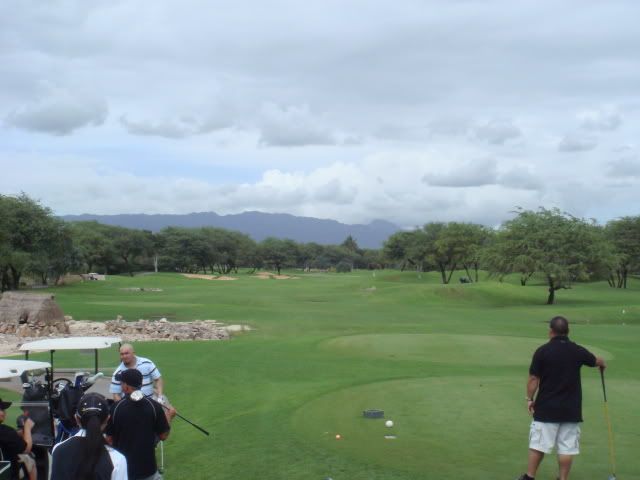 I've only golfed here once before and if you look closely on the left of the picture you'll notice white rocks just past the tee box on the FIRST hole.
"DO NOT HIT THE ROCKS! DO NOT HIT INTO THE HEIAU..... again!"
Yup. My one and only vivid memory of this course was of me teeing off years ago and B-lining my drive into the second heiau further down.
Wat a great thought (feeling) to have while getting ready to hit da ball yeah?
Wassap Wit Dat!
Fortunatly, I hit the ball decently straight and so began my record breaking round - shot a 95! (sorry for those who don't know golf but golf lingo is about to bust out)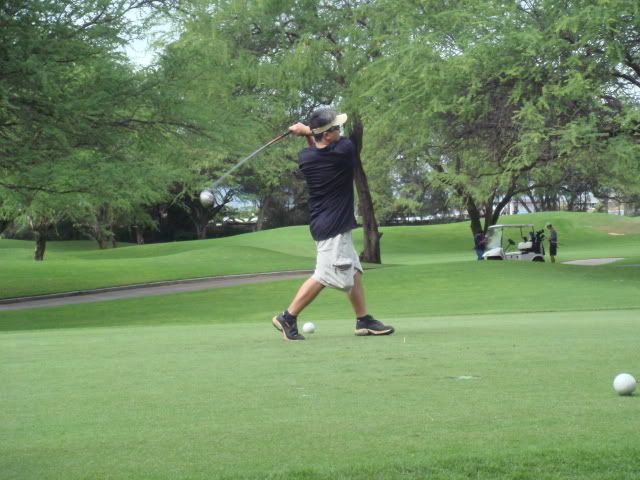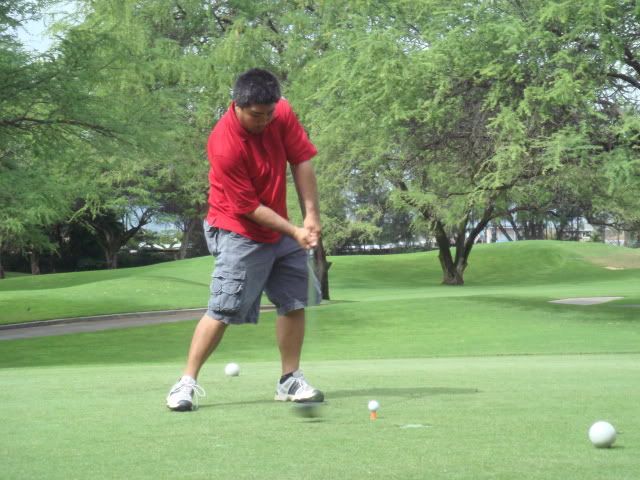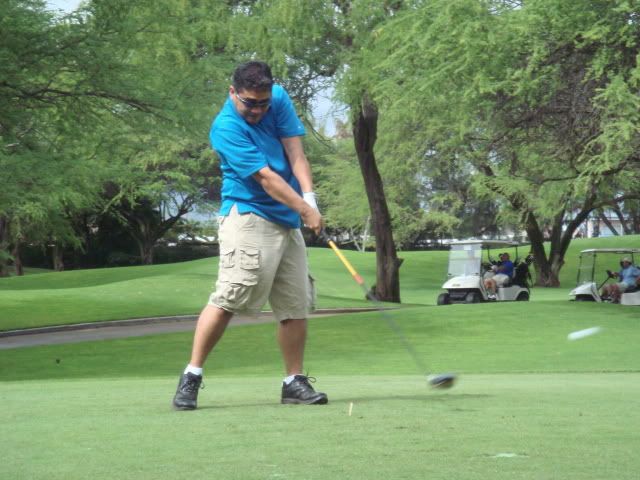 You can tell who took which pictures. 😆 Can you guess which one is me?  😛
I was tripping out that I was hitting par on most of the holes but I was jumping up and down like I won the Super Bowl when I got my first birdie! I two-putted the majority of the holes and I even one putted a breaking 20 footer! Even more of a bonus was that I acutally won a greenie! Truth be told, I don't even hit anywhere near the green on a par 3 (normally TRIPLE bogey par 3's - psychological thing) and to my surprise - and my friends as well - I stuck it!
I was even more surprised I lost only ONE ball! How amazing was that? And I lost it on the the 17th... but I did bachi myself cause right after I was "amazed", it went bye-bye. FYI - I brought 12 new balls with me to the course plus I had about two dozen "backup" ones as well. 😯 Did I mention dat my shoe broke at da same time?! 😡
So of course at dinner later, I was getting the "sand bagger" ragging after I shot a 5-under with my handicap and won for best score.
I was talking to Jay Higa of Fore-Play yesterday, our HA golf blogger, and while excited for my "great" game (he normally shoots waaaay bettah) he said da true test is to go out again and see if I can duplicate it.
I told him,
"Wat Brah! You think I crazy! I just shot da best game of my short golf career.... I'm retiring!"
At least till next year.  😉
Happy Feel Good Friday everyone!.... yeah, you Lurkahs included.  😀
See you at da pah-tah tonight for those who coming and those who not? Maybe next time....
FEEL GOOD FRIDAY JOKE OF DA DAY
Two women were playing golf. One teed off and watched in horror as her ball headed directly toward a foursome of men playing the next hole. The ball hit one of the men.
He immediately clasped his hands together at his groin, fell to the ground and proceeded to roll around in agony.
The woman rushed down to the man, and immediately began to apologize.
'Please allow me to help. I'm a Physical Therapist and I know I could relieve your pain if you'd allow me, she told him.
'Oh, no, I'll be all right. I'll be fine in a few minutes,' the man replied. He was in obvious agony, lying in the fetal position, still clasping his hands together at his groin.
At her persistence, however, he finally allowed her to help. She gently took his hands away and laid them to the side, loosened his pants and put her hands inside. She administered tender and artful massage for several long moments and asked, 'How does that feel'?
He replied: It feels great, but I think my thumb's still broken.
Mahalos to Leah (? - he nevah even introduce me to her... WWD!) and Sam for putting up a great get together! The golf, food and prizes and friends were awesome! I know how hard it was hard to organize everything and a big MAHALOS goes out to you both for thinking of friends.