I Know You... But I Don't Know You
November 28th, 2008
So it finally happened.
After a lot of "teasing" the past few months, the first evah....
was held last Friday.... neon lights and all! 
Ok, so I added da neon.  😀
Da night began once da pau hana whistle blew and Da Wife and I get there about 5:20pm to find out da place was closed. The lights were on and da door was locked....
"$h!t! Da pah-tay was tonight or next week? 6pm right? AIIII-GOOOO!"  *head spinning*
I pull on da glass doors again and double check dat we got da right place.......
Yup. 'Dis da place. Ok, we just wait li'l bit - maybe was going open latah... but Shauna and Rodney supposed to be hea' already.  ❓
(heard a giggle) "Wea dat noise coming from?" Look up and voila! Stairs. 🙄   We go upstairs and head in.... Bam! Get about 20 pairs of eyeballs all radar locked on Da Wife and I.
"$h!t We get da right place or wat?" 
We walk through and look around trying to recognize anybody and head to da private room in back........ NOBODY!
Wassap Wit Dat!
In da "planning stages" I was told by Shauna & Rodney dat they would be there early at 5pm setting up so wen I nevah see 'em I was thinking again.... say it with me....... C-O-N-Spiracy!
Dang it, wat's Shauna's & Rodney's phone numbah? Fudgesicle! It's on da papah in my bag in da car. Aaaaarrrgggh! 😡   So I go all da way back to da garage, dig out da paper and start dialing.
Shauna answers and is "on my [the] way" and of course right on cue, who walks in front of me in da lobby? Das right, Uncle Rodney.
I need a drink.
So the night began... well, early for me at least.  😀
To tell you the truth, having a pah-tay with complete strangers is not exactly my cup of tea and I'm sure most everyone at one point or another must have thought about not attending or wondering "wat da heck am I doing going to a pah-tay wea I don't know anybody?".
I certainly have no idea who da heck reads my dribble (just found out at Thanksgiving dat my father-in-law's coworkers read, elderly auntie and cousin-in-laws too - all Lurkahs of course) and to actually have a pah-tay with strangers was.... weird to say the least.
As such, we didn't know wat to expect. Was it going to be a dud? Weird people? Young? Old? Did I need my tazer? 😮
But as soon as the initial "awkwardness" was put to rest, boy did everyone pah-tay up! I won't lie, I was definitely surprised! It was supah nice to finally put a face to those words... well, now I can imagine a voice too. Yeah, I nevah fo'get da lone Lurkah in attendance either.  😆
I certainly hope we met the expectations for those who attended - even for those handful dat just stopped by to say Wassap and left shortly aftah - hopefully we didn't disappoint.
And no worries about being nervous cause I've learned in my short life that you can either stay nervous and not enjoy the moment or convince yourself it's ok, let loose and have a good time. 😀
Hopefully if there's a next time, you'll "let loose"...... trust me, with da people I met at the party.... it's hard not to.   😀
I only have a few pics.... no can help.... was having too much fun to stop and take pictuah's!  😀
You all know who 'dis is by now.... NKHEA.... and his wife.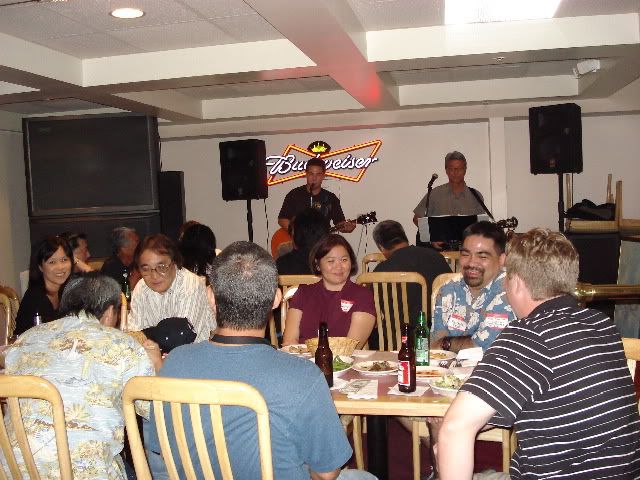 Half da room with Steve Min and son performing in da background. (Pic courtesy Uncle Rodney)
Jus' no can get away from these guys can we? 😯
It's ok, we all know he's a closet Kwonic anyways. 😆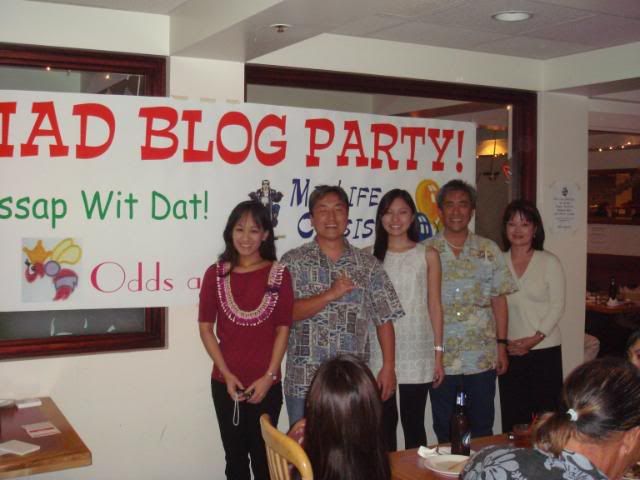 Left to right: Shauna (Odds & Ends), Me, Kelli (Campus Life 101), Rodney (Midlife Crisis) & of course Leslie (Island Tails)
See, doesn't good lookin' wahine make da pictuah look bettah? 😆
SHOUT OUT: Mahalos again to NKHEA fo' hooking us up with Fort Street Bar & Grill and the entertainment, Steve Min and son. The environment was cozy, excellent service and Steve Min and son played... well, let's just say Snoop Dogg wasn't in da house.  😉  The music matched perfectly! Also to Shauna from Odds & Ends for really "wanting" to put on a pah-tay and getting da games together (Uncle Rodney from Midlife Crisis and I were just along fo' da ride).  😀
Mahalos also to BananaFysh, anklebiters, 808Dad and Leslie fo' da wonderful gifts and prizes!
Last but not least, mahalos (again) to Leslie from Island Tails and Kelli-Girl from Campus Life 101 for gracing us with their prescence along with a few other staffers! It was really cool seeing them "out of da office" - real different yeah?
Happy Feel Good Friday!
.... For those few who showed up to work.  😛