Kauai In A Day? Ok, Maybe Two
January 20th, 2009
1/17/09
Check back Monday please... still working on it. 😀
I'll try not to disappoint and represent da Garden Isle peeps proud! 😉
---------------------------------------------------------------------------------------------------------
1/19/09 
Update:  Sorry, still working on it - having some "technical" difficulties with the pics. Tomorrow for sure! Possibly some video too... as long as it'll upload.
So why did I post early? Cause it was my turn to be "featured" in Saturday's papah and I had to put out something. 🙄
Plus, today (Monday) is a holiday for most... and who reads WWD! on their day off?   😆
---------------------------------------------------------------------------------------------------------
1/20/09
Mahalos for sticking around and being patient with the Kauai post. You wouldn't believe how long it takes to put up a post with choke pictures.
Anyhoo, right before Christmas I won 4 roundtrip tickets on Mokulele Airlines. Da Wife and I hadn't gotten my parents their Christmas gift yet so we decided to take them on an overnighter to Kauai since they haven't taken a vacation in 15 years.
And of course being da king of WWD! moments, wat happens da Friday night before we're about to leave? A thunderstorm hits Oahu causing an islandwide blackout. Did I mention we didn't eat dinner or even pack yet? 😥
Wat sucked is dat most of our plans involved outdoor actvities so I was kind of bummed about the weather. Wat sucked more was dat wen we got to da airport at 6:30 Saturday morning, there was no parking... even on da rooftop!
Wassap Wit Dat!
If you've evah traveled neighbor islands you know it's pretty unusual for da rooftop to be packed so wen I had to circle three times to find one, it was a relief. We head down to da Mokulele check-in which is next to Hawaiian Airlines...
Pretty crowded at 6:15am.
While there were only five people ahead of us - and there were about 300 in da Hawaiian Air line - da Hawaiian Air line was moving along quickly... and aftah 40 mins of waiting we finally get checked in manually. It seems da blackout only affected Mokulele's computer's...
Wassap Wit Dat!
I gotta admit, I like Mokulele's planes... still got da "new car" smell. But more importantly, had CHOKE leg room so short people will be traveling in "first class".   😉  
Plus even mo' bettah only had five of us on da entire plane.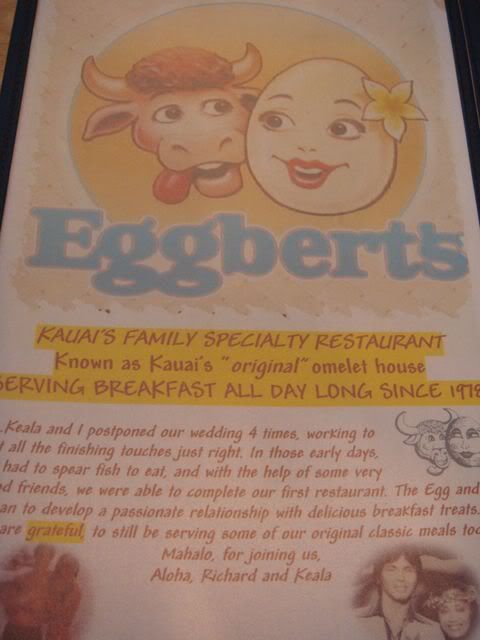 The flight is a very short one - around 20 mins - and as soon as we land, we pick up da car and head straight to a recommended breakfast spot from a Kwonic called Eggberts
Touching story of how two people perservered.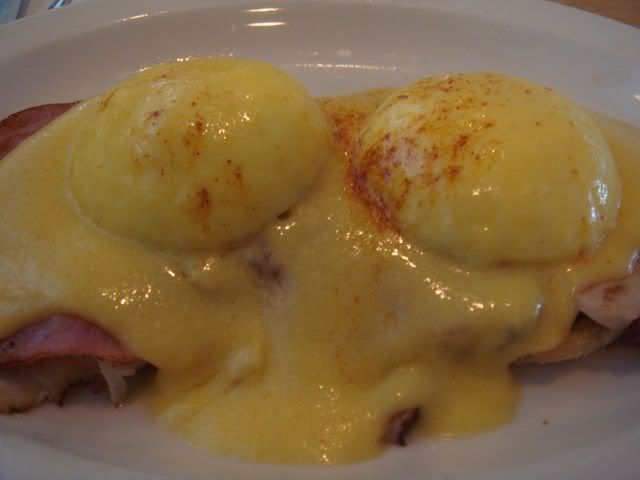 I had da eggs benedict "supreme" (?). They just added an extra meat besides da ham, turkey. 
After breakfast, we head to Resort Quest at Makaiwa (east side) and was able to get an early check-in - not that we needed it since we had a full day planned ahead. The weather looked way better on Kauai than on Oahu but the clouds still did loom ahead and as we drove to Princeville (North side) it started to rain.
We had reservations at Princeville Ranch Adventures for some zip-lining and they go out, rain or shine so barring a hurricane approaching we continued da drive praying for a break in da weather.
We arrive at a humble check-in station...
Our "adventure" is called Zip n' Dip. Here's a blurb from their website...
"Imagine yourself soaring like a bird over breathtaking valleys on pristine Princeville Ranch. The Zip n' Dip Expedition is an incredible adventure blending eight picturesque zipline crossings, a suspension bridge, and a stop at an idyllic waterfall swimming hole for lunch and fun! "
We didn't know wat to expect since none of us have evah gone zip-lining but it sure sounded good!
We had a ride in their "limo" to start our adventure. I gotta get me one of these! 😀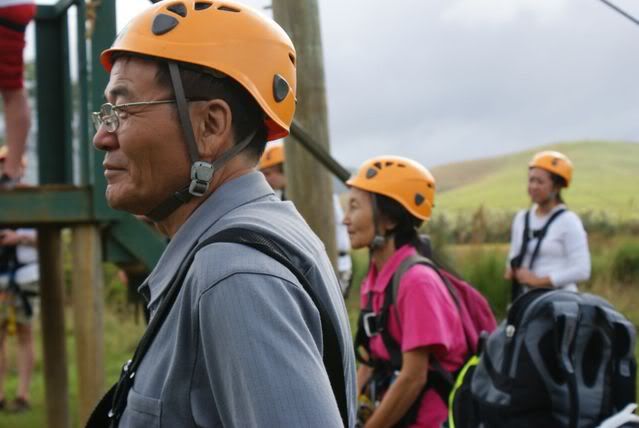 Getting a crash course in zip-lining - Dad, Mom, and Da Wife.
Doesn't dis pic just say it all?    😀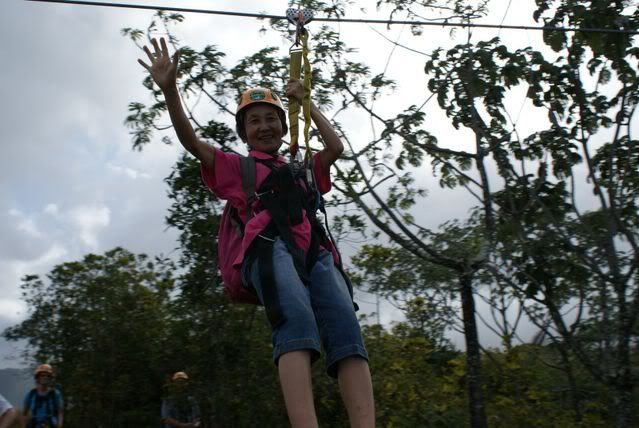 Even Mom braved da jump and gave me a wave!
Dad was having too much fun and launched on his own.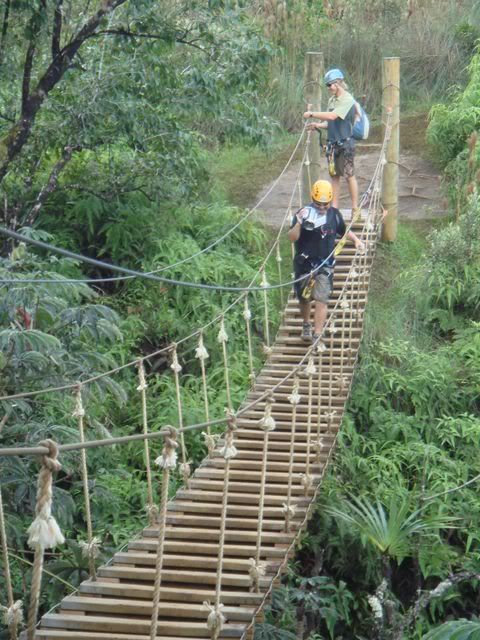 Here's da suspension bridge. Da ongoing bet is to try and cross without using your hands. I was about to try but Da Familia was across da bridge and I had da camera weighing me down.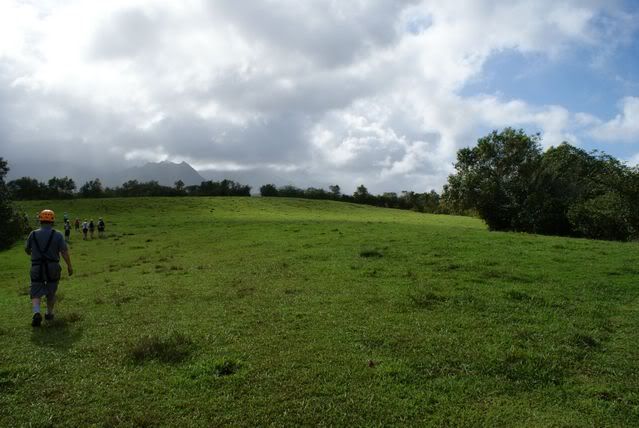 We did a bit of low level hiking as well. We were practically covered in mud because of the rain oversaturating the ground but once we got dirty... didn't care aftah dat.
Did I mention dat we're on a ranch?  I've heard of $h!ting bricks but I nevah thought it was FO' REALZ?!   😆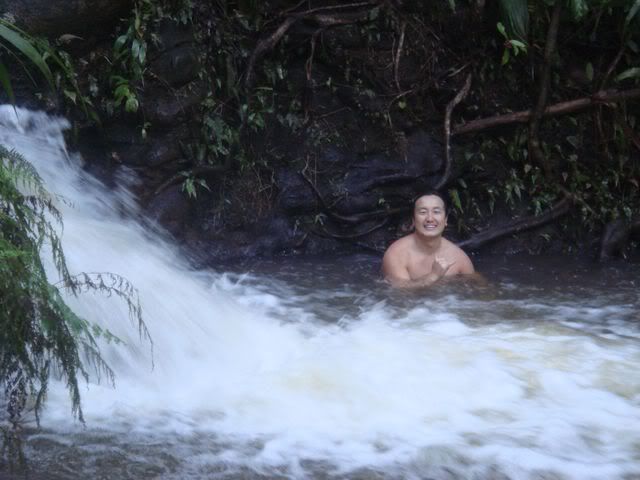 A very refreshing dip in a small but gushing waterfall. Da watah was SUPAH cold so expect.... shrinkage. 😯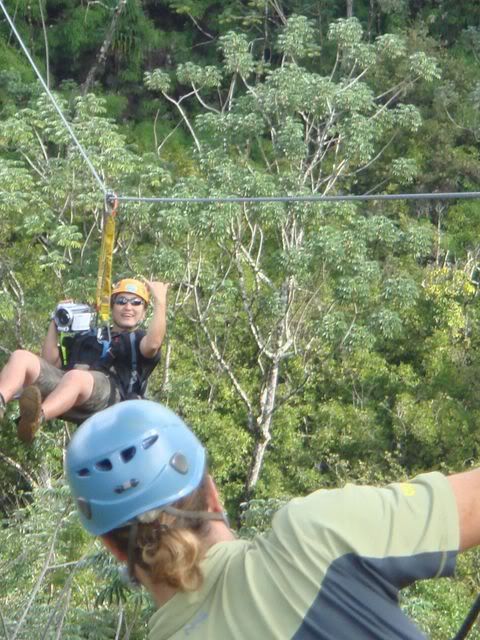 Last one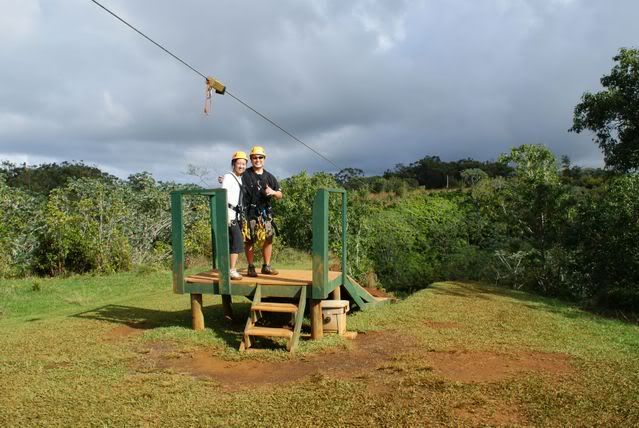 God blessed us with a not so bad day considering cause right aftah we was pau it came a' pourin'! See da clouds behind us?
So wat I think of da adventure? Aftah you see da rest of da pics in da link below... you tell me. 😉 But if you like know....
YOU GOTTA DO IT!
Da kama'aina rate is pretty reasonable and includes lunch and a short waterfall hike - although it is a very small waterfall. They have inner tubes there so you can float to your hearts content or jump off da side of da cliff (nowhere as fun as Waimea Rock) but it was a nice break to rest your feet. But c'mon if my 78lb Mom can do it... kinda shame if you no can eh?  😆
I have to give props to our very cool guides, Chris and Rich (I hope I got dat correct cause you all know my memory is terrible). Wat impressed me the most is dat while both being from out of state (one from da East Coast and da oddah from da Carribbean), was that they were very conscientious about the native plants and their properties. They not only knew the names (and pronounced it correctly for da most part), they made an effort to educate everyone about the significance of it.
On our way out, Chris or Rich (sorry forgot who's who) picked some berries for us (fo'got da name). It was a tart, dry berry which was quite good and a wine drinker would have really appreciated it... as one of our guides was.
The only thing I gotta mention is dat you have to get over da smell. No not da dung scatterd all ovah da ground but da haole smell on da equipment. Now don't get your panties up in a bunch. We all get some kine of distinct smell: Chinese, Japanese, Korean, Vietnamese. But since a great majority of visitors there are haole, dat smell is very.... pugnantly haole . I would suggest if you're planning to go zipping, to bring a bottle of Febreeze or Oust to help tolerate dat smell.
Da verdict? Wat else....
Five Shakas and a Howzit!
Believe it or not, aftah all dat we still had stuff fo' do! It was late in da afternoon and we continued our drive along da North side just to check things out since we were only here for a night.
With Kauai getting one of da higher annual rainfall counts, waterfalls like this are just a beautiful sight... especially if you have a telescopic zoom lens.    😉
There's a dry cave......
And a wet cave within a minute away from each oddah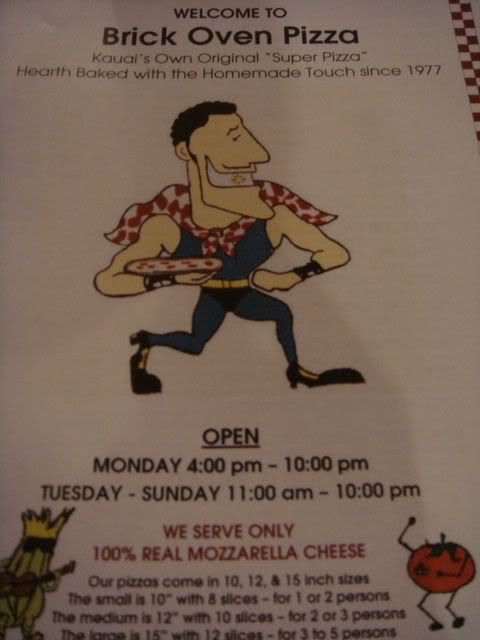 Following anoddah Kwonics suggestion, we ate at Brick Oven Pizza
We were so hungry aftah getting back to da hotel and heading back out fo' dinnah... fo' got to take a picture of da whole pie.
They just opened a second location near us in Kapa'a and da place was packed. You can tell da ingrediments was fresh and there's even a guy "tossing" da dough.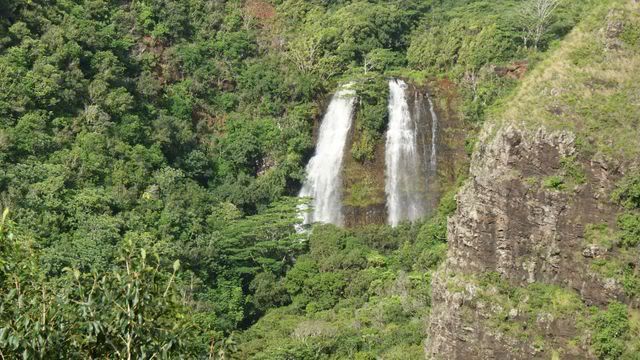 Da next morning we check-out and hit a waterfall we missed earlier, Opaeka'a Falls.
Uh, scared of falling... or da bullet holes in da sign?  WWD!
Wailua Falls
Needed some breakfast so we stopped by Tip Top Cafe.
I had da "infamous" loco moco but they ran out of fried rice! How rude!   😆  
With our tummies filled, we headed towards da south side. It was already a little late - in manju time- and boy did da manju just fly off da shelf! Only had da "junk" kine left and da shelf was practically empty with only pineapple and regular left. It was really empty aftah we took da last five. 😳
Dis is wea you get da manju
Driving right along, we stopped in Hanapepe. And as yet anoddah Kwonic mentioned, if you blink, you'll miss it. If it wasn't fo' dis sign, we would have just drove on by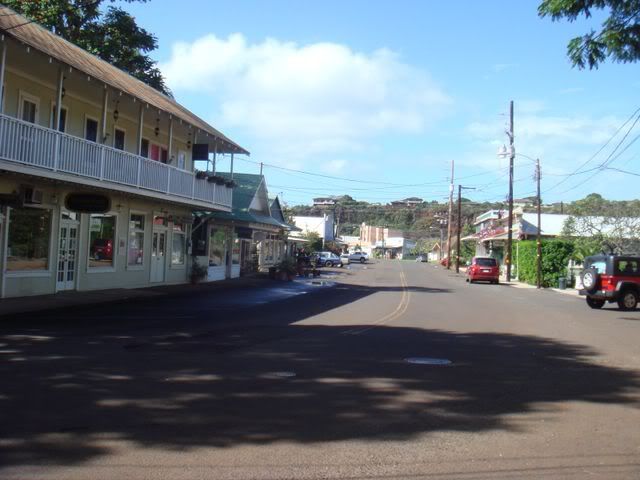 I dunno if people even live there cause it was dead. I figgah it being Sunday it be slow but there wasn't a soul around except fo' da four oddah "tourist" cars.
We drove by Taro Ko Chips and it looked closed so we went on to da swinging bridge. Dat was a trip in itself. But we were determined to get some taro chips so we call... and he answers! We place an order and pick 'em up on our way back from Waimea Canyon.
I thought dis sign was too funny to pass up - "10 minutes parking only". Huh? You get dat much traffic?   😆
Boy has it changed with all da rain - it was really "green". Last time I saw it was baren.
 There were two waterfalls going - one you could hike just above but we didn't have shoes (threw them away aftah ziplining). 
Can you see Ni'ihau?
And dis is da end of da road and da begining of da Na Pali Coast just beyond da ridge.
We jammed as much as we could in practically a day and a half and thought we did pretty well covering the majority of da island. Kauai is a relatively small island with tons of natural beauty. Da scenery is just flat out breath taking I certainly hope they keep it "country". If you're into eco-tourism... dis da place! I only wish we had more time cause we'd definetly would have done some hikes and toured "green" and explored a lot more.
No wondah they no like da SuperFerry. 🙄
But then how I going bring all my hiking gear, cameras and dogs?
No can win.... except da spirit within.
CLICK HERE FOR MORE KAUAI PICS