Late To Da Pah-Tay Again
January 27th, 2009
Seriously, anybody NOT go into Chinatown for da Kung Hee Fat Choy celebrations? 😆
Uncle Rodney from Midlife Crisis, Les (Leslie Kawamoto) from Island Tails and Kelli-Girl from Campus Life 101 were just a few that were there. If I knew we were all going to be there we should of have just thrown anoddah blog pah-tay no?  😛   They already all blogged about and of course I stay late (scooped).... maybe cause I thought today was Kung Hee Fat Choy 😯 .... nah, cause I stay on Hawaiian time! 😀
Check out all three of their Kung Hee Fat Choy blogs for their awesome pics and Kelli-Girl stepped it up - cause she got hookups from tech friends - and added some video.... something I'm still tryin' fo' do with all my Disneyland, Six Flags and Ziplining rides. 🙄
Truth be told I normally don't attend any of da festivities but since Da Wife's company was involved in da parade, I decided to stick around and check it out.
Of course, dis is WWD! so I get one mo'olelo fo' share about da parade.
My mother-in-law, her boyfriend, an uncle and aunty showed up for da parade and got some choice seats on da corner of Hotel and Nuuanu.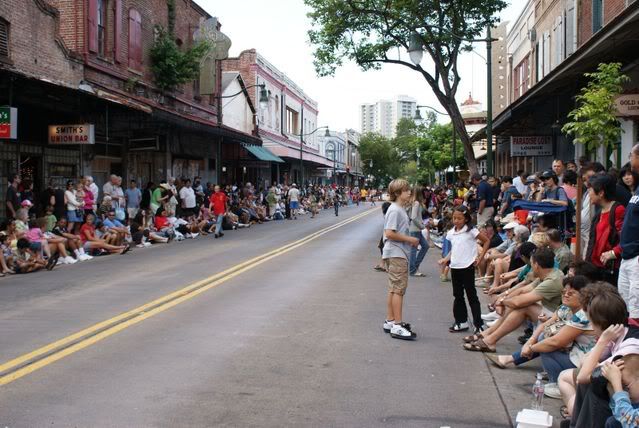 Looking down Hotel St - Ewa side
So we're sitting there and the parade hasn't started yet and of course just get some people (kids) cruising on da street. Well, so am I... but I da paparazzi so I get excuse. 😆
Da parade starts with a police escort coming down and people inch their way back to da sidewalk and for those who didn't was told by an usher to remain behind the gutter line. You can see da line in da pic above wea most of da feet stay as you sit. So of course people try to squeeze back in.
We already get choice seats so we not worried until a huge group in da Diamond Head side starts to creep back out to da street. In fact, they were actually standing in da parade route! They stand there oblivious to not only da parade participants but da people behind them sitting along da sidewalk (see pic above). We (they) couldn't see anything until da participants were literally right in front of us.
Wassap Wit Dat!
I figgah aftah a couple of lions pass through they'd get da hint fo' back off or actually have da sense dat da participants were going AROUND them they'd catch da hint.
Nope.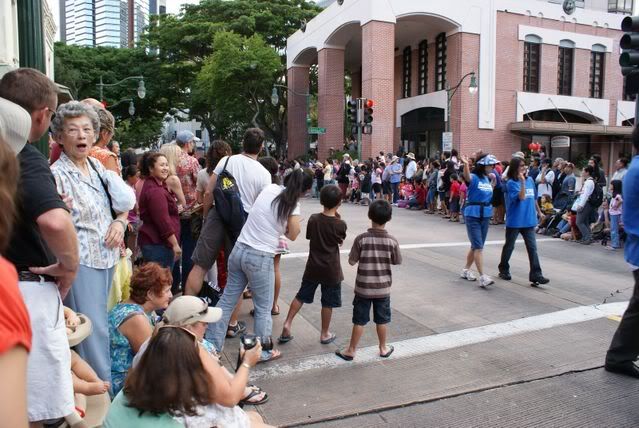 So I go up to da group starting from da back and tell them dat they're supposed to be behind da line and dat ALLLLL da people behind them no can see.
The initial group started to move back until I hit one lady with attitude.
"Wat? We no can see either. They stay doing it up there. Everybody's doing it."
"Terrific attitude lady."
I should have told her dat they also robbed a bank earlier and it was her turn. 😡
But I bit my tongue cause mo' worse, she had one keiki. Sad. Now her own keiki going get da idea dat it's ok to be ignorant just because everyone else is.
And you see da two keiki sticking out in da road? No parents to be seen. No parents fo' tell them they stay in da middle of da road and they in da way.  
Ai-goo. No can win. 🙄
Without further ado, hea's some of da pics from da parade.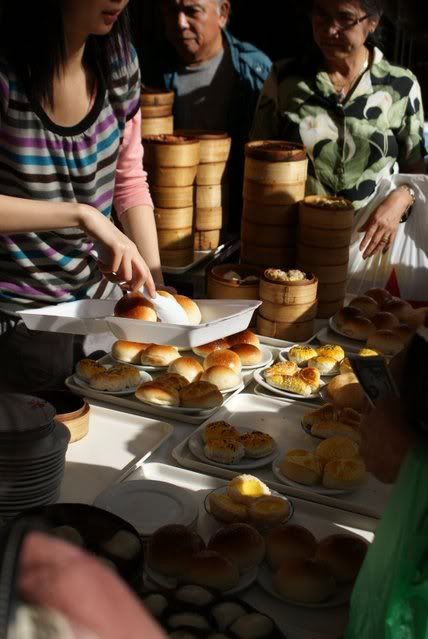 Store front owners had their tables set up in anticipation of da hungry crowds. I just took da pic cause I liked da shadow and light.   🙄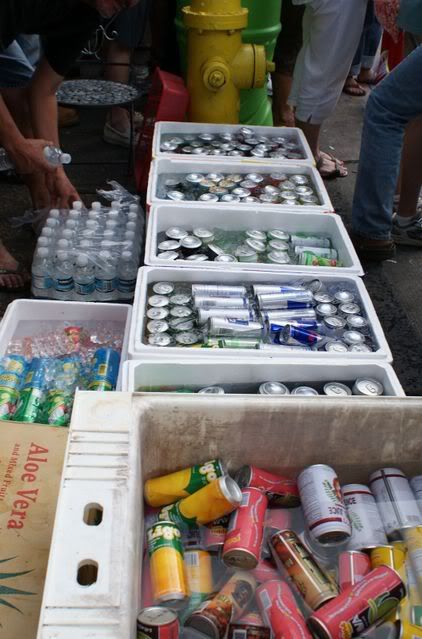 It was hot so many varieties of ice cold drinks were available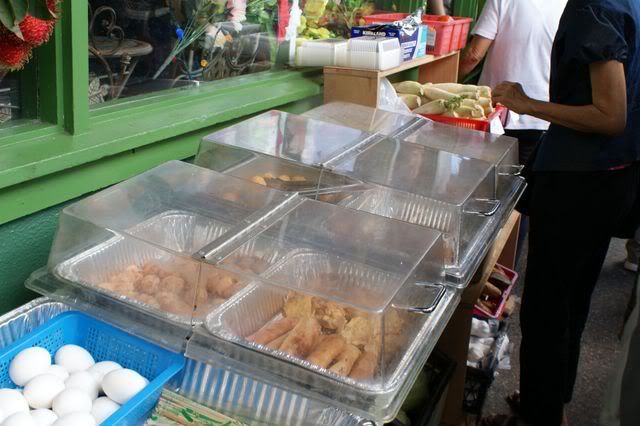 Wat's Chinatown without food.........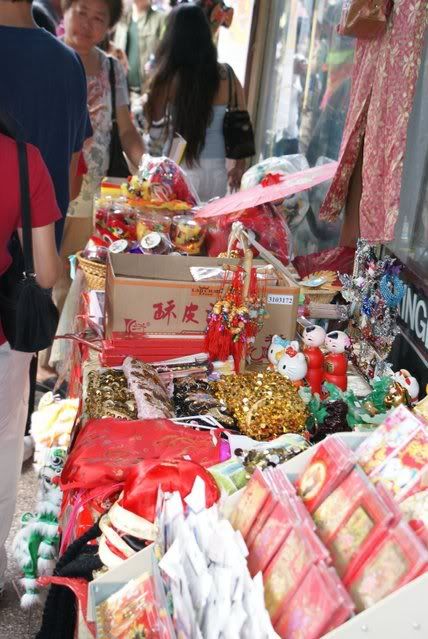 And trinkets!  😀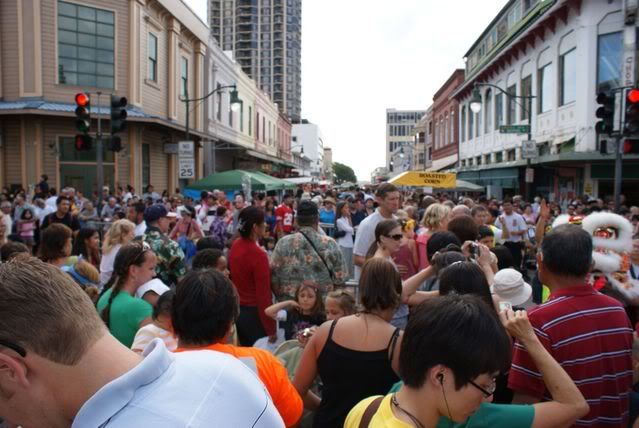 Uncle Rodney had mentioned it was crowded at night... nothing different in da afternoon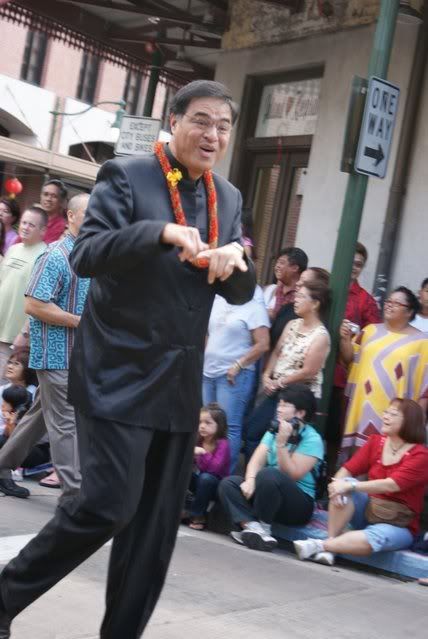 Can't start da parade without Mayor Mufi dressed in a Chinese silk shirt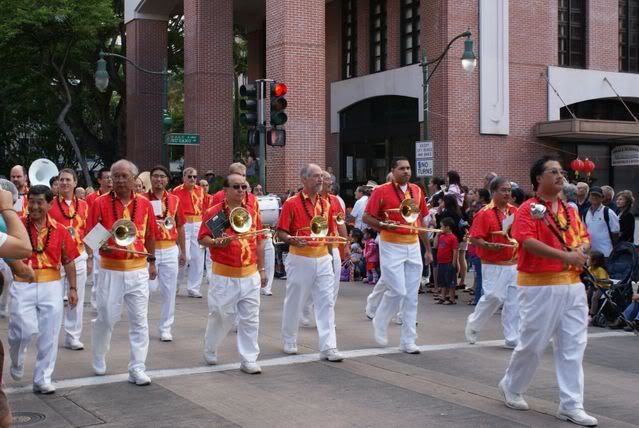 And of course wat's a parade without The Royal Hawaiian Band!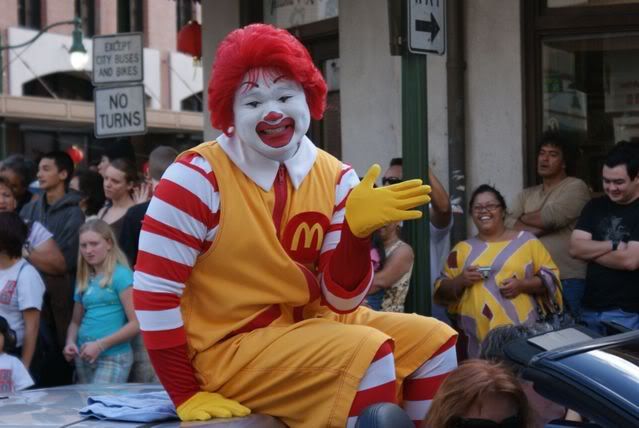 Even Ronald McDonald was in da house!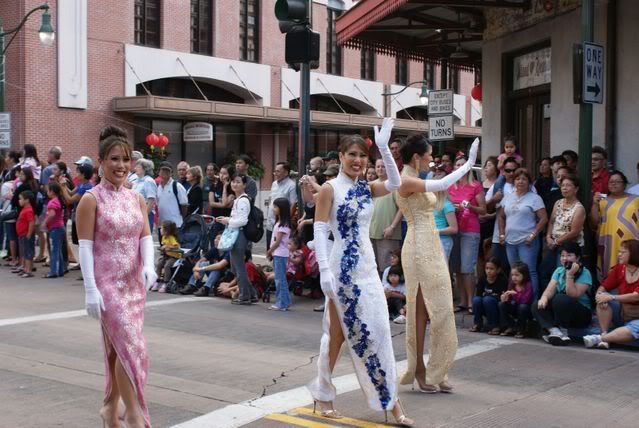 Did I mention dat ALL of da Dung's were there?  
And you know if I evah get a shaka... chances are you going be on WWD! Double shaka? Garans-ballbarens!  😉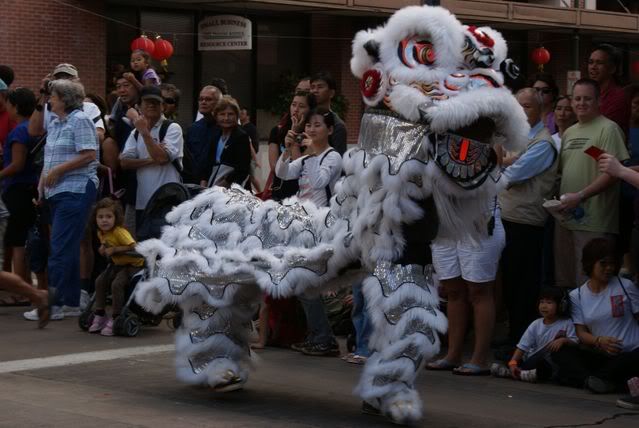 There were big lions.......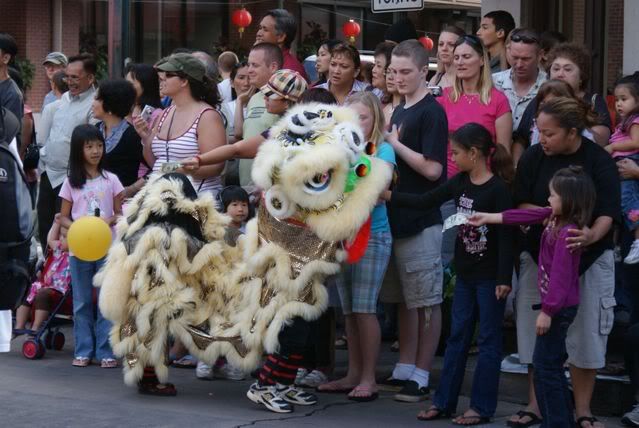 Little lions.......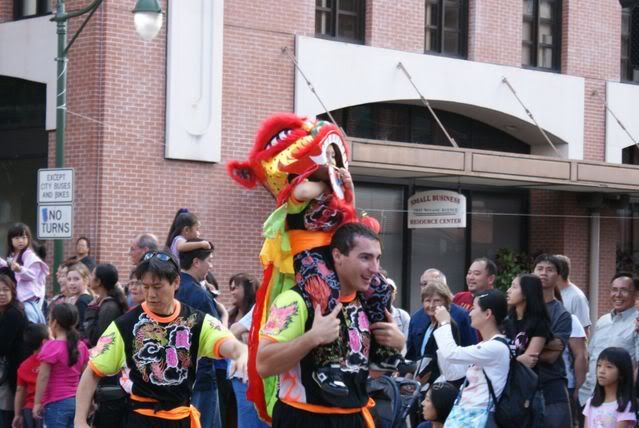 And even little'r lions!  Oh my!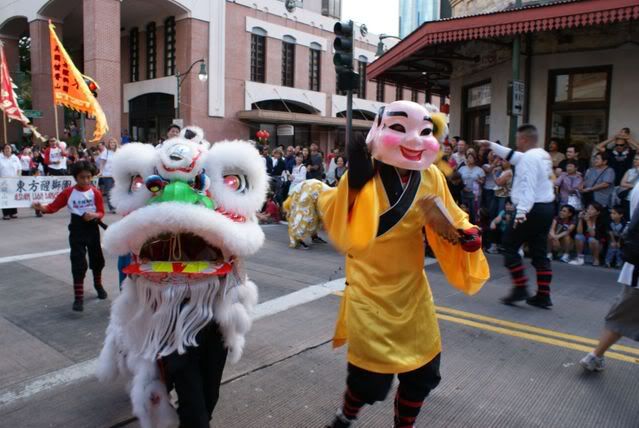 They came a lookin' for anyone asking for good luck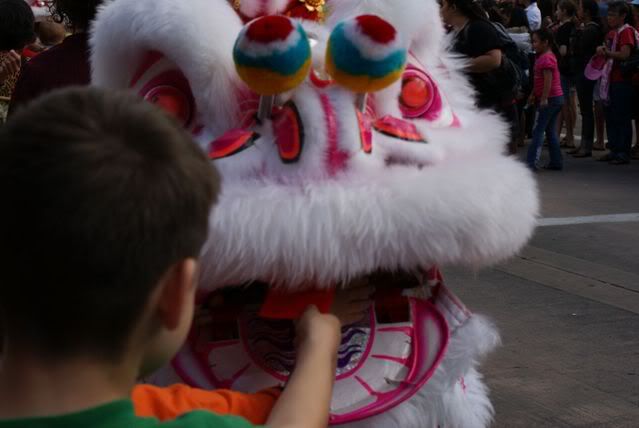 A haole family from da mainland next to us obliged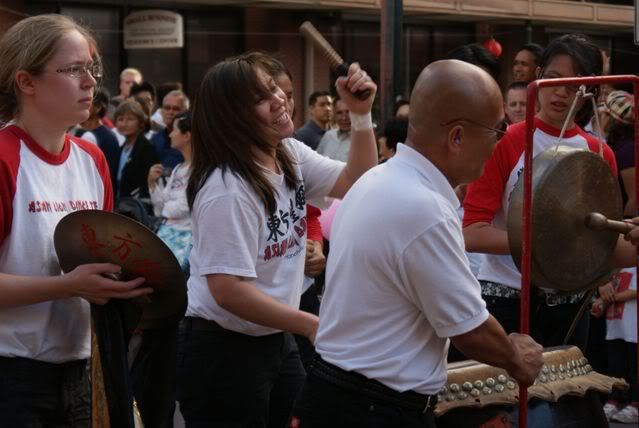 Havin' some fun!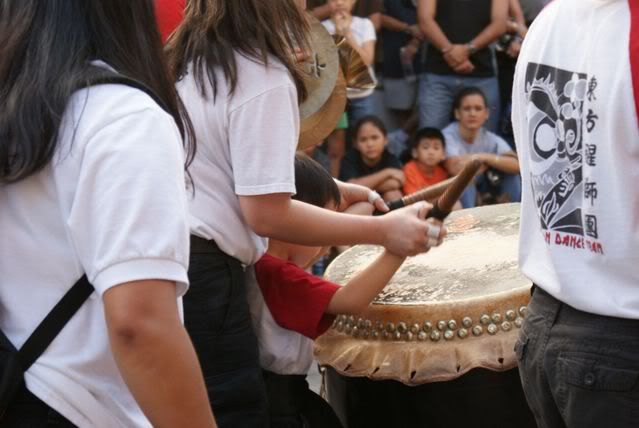 Now DAT is wat it's all about! Passing it down generation to generation.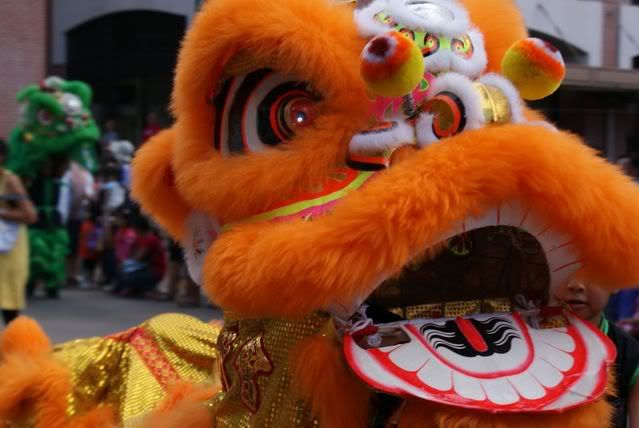 Do you see da fire in it's eyes?!   😆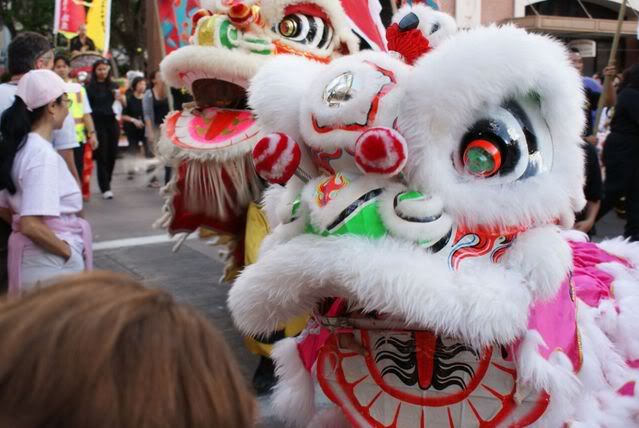 Feed me!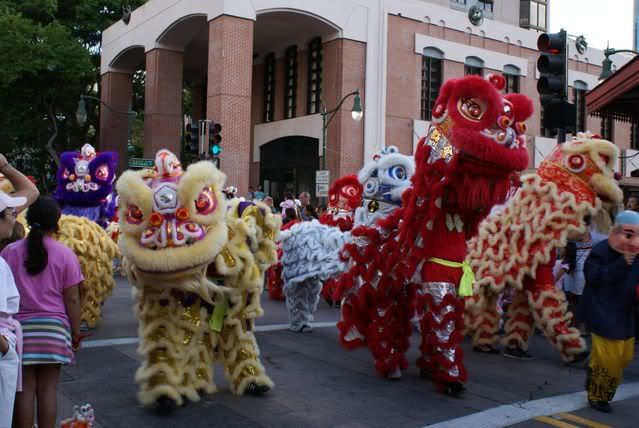 Yikes! Who let da lions out?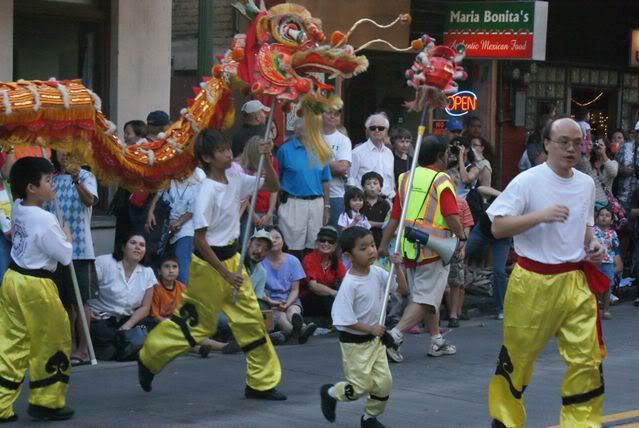 Dis kid was hustlin'!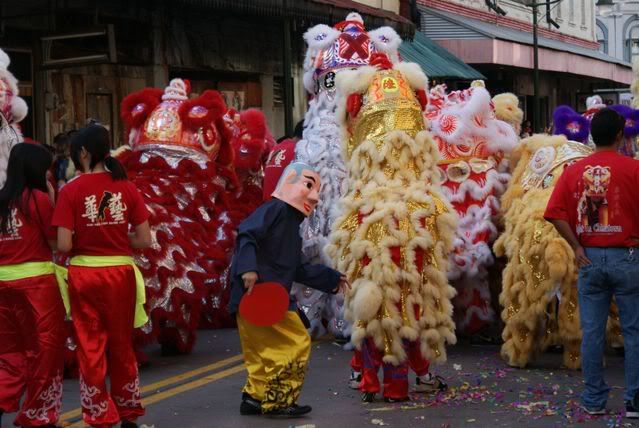 Dis pic is for all da WWODD! peeps in da house... make of it as you will. 😆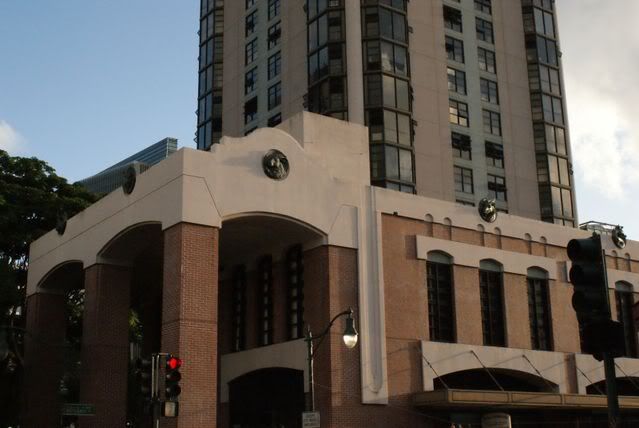 Not sure if you evah seen dis building on da corner of Hotel and Nuuanu (I believe it stretches down to King) but dis is da first time I've noticed da emblems on top represent all 12 of da Chinese Zodiac characters. Click da link below to see it a bit closer.
CLICK HEA' FO MORE PARADE PICS!
k-den