Shaka-nack Review: burgers on the edge
February 26th, 2009
Da Wife and I have always wanted to check dis place out but nevah had any reason to drive to Kapahulu.
Now we had a reason..... she was hungry and she wanted to eat there..... dat's good enough for me! 😉
If you know where or driven by the new Kapahulu Safeway, you'd probably seen this (and jus' fo' all da Kwonics who always say no can see da pics... da pic box get one link - let me know if dat no work):
*UPDATE: Ok the link on da pics no work, so try CLICK HERE if you no can see da pics below: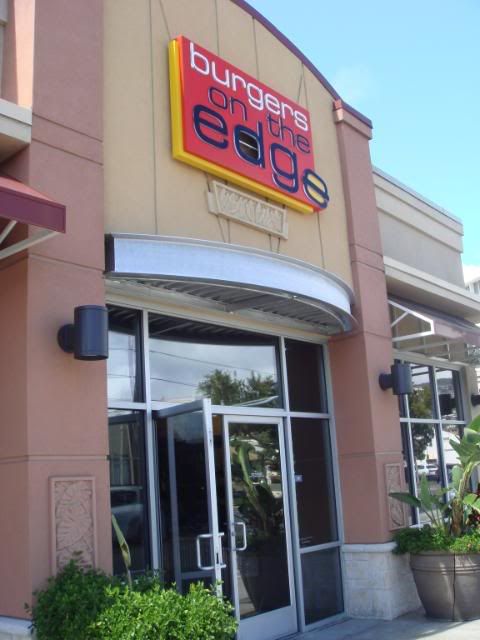 Entrance fronting Kapahulu Ave
Now you're thinking what's so special about burgers on the edge? How's about ordering to begin with?  😆
If you've evah watched Seinfeld.... let's just say da ordering style is "Soup Nazi-ish".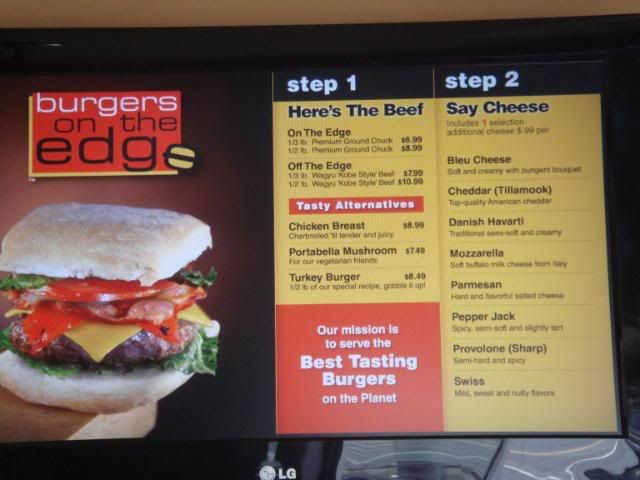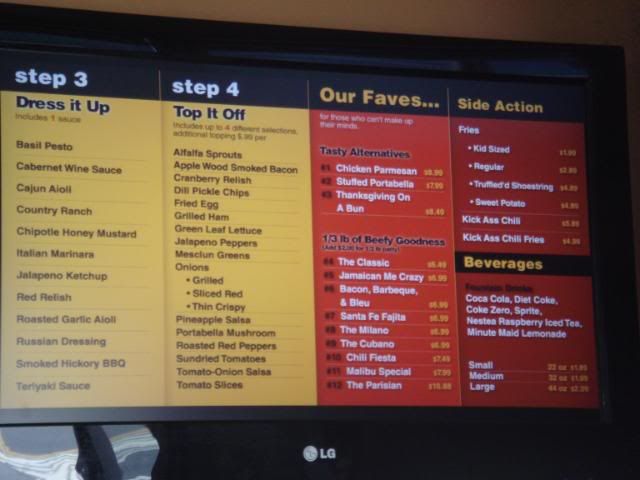 I am so glad it wasn't busy wen we got there cause we must have just stood there and stared at dat menu for ovah 15 minutes first wondering "how" to order but more importantly "wat" to order! (WWD!)  Wen we finally decided wat we was going to get and "thought" we knew how to order, da cashier politely stopped us and "guided" us through their ordering procedure.
We happily obliged. 😀 Well, considering it made his job easier and our ordering more simple. So as they got da grill going and da burgah toppings ready to go, Da Wife and I decided to enjoy our meal in the outdoor dining area. Did I mention dat it was table service as well?
Sorry, kinda blurry but dat's Da Wife's and I's hamburgers on da left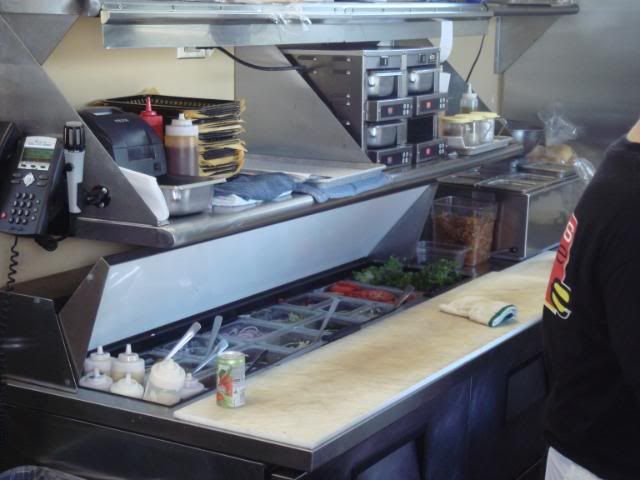 Fresh toppings await
Waiting for our food.... can you spot Da Wife?     😆
There are a few indoor tables but no fun dat kine
All your condiments ready to go plus... towelettes which I thought was a nice touch considering you'll be eating with your hands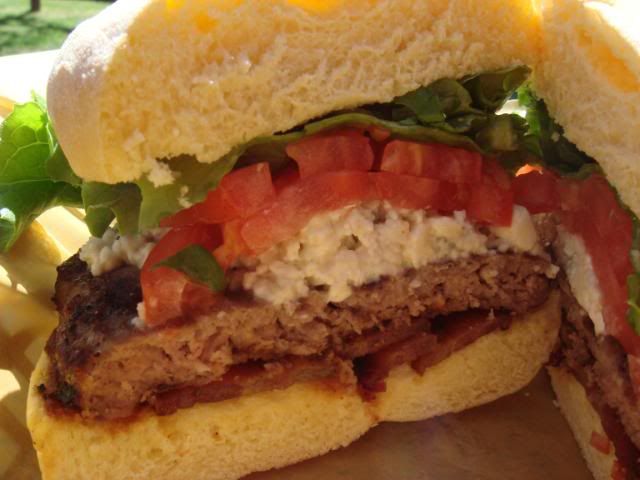 Da Wife had a specialty burger called BB&B which is Bacon, Barbeque & Bleu.
I had mine's made "a la carte" with pepper jack cheese, garlic aioli, lettuce, sundried tomatoes and roasted red peppers
Not too make you any more hungry but hea's wat it looked like right before being chomped down on......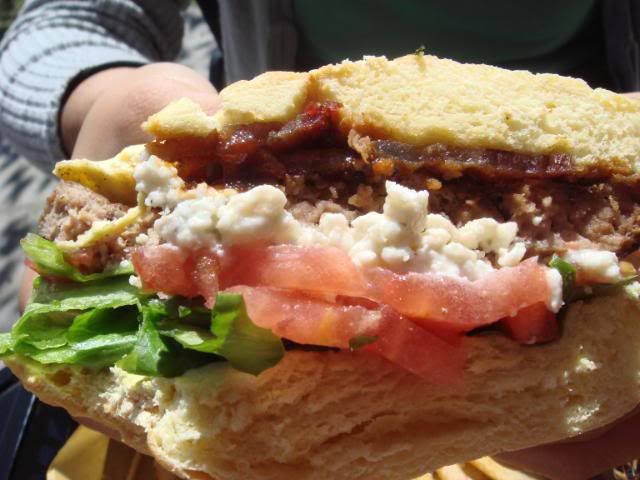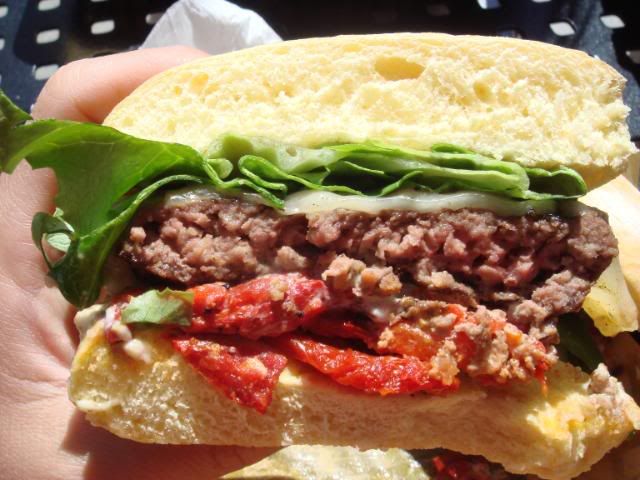 Open wide!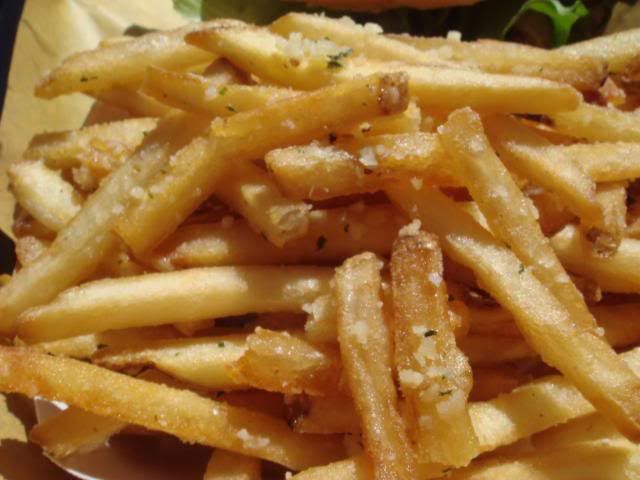 We also heard about their truffle oil fries and had to try 'em too!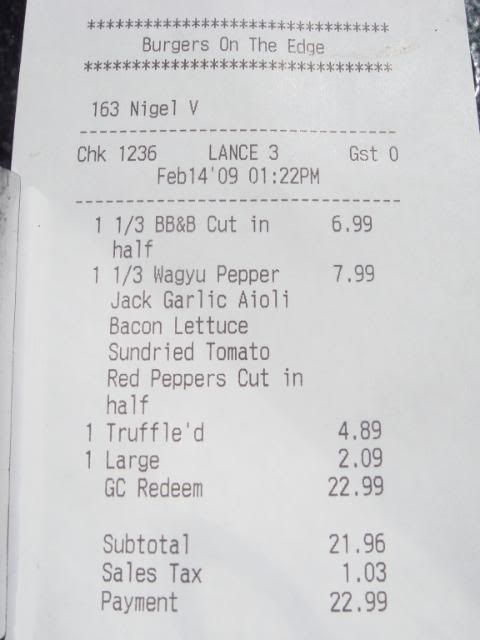 Da damage.......
One thing to note about burgers on the edge, the hamburger itself comes two ways... and then two ways. You can either get premium ground chuck or the Wagyu beef and then you can either get it 1/3 or 1/2 pound sizes.
Da Wife had da premium ground chuck. I had da Wagyu beef.
Get da Wagyu beef. 😉
They were both ono but the Wagyu had more.... flavah.
The truffle fries were damn ono! I'm a fry freak so wen I say it's ono... it's ono! Ok, did I just geek out?    🙄    😆   A little on da salty side but nonetheless compliments da fancy burgahs quite nicely.
Da place is a little small so wen get busy, it'll be elbow room only.
Da price? Kinda expensive for one burgah but considering da type of beef and da fresh ingrediments and toppings I would say it's about par for wat it is but defintely not something dat I would (could afford) to grind every week... not even every oddah week.
Good thing we had some GC's to burn AND we still get enough fo' one mo' visit! Cheee-hooo!
So how does burgers on the edge rate on da Shaka-nack meter?
Four shakas and an Au' right!
It would have gotten five shakas easily but da price just a tad high fo' da average Joe to eat occasionally - imho.
So if you in da Kapahulu area, have a few bucks to burn and craving an awesome hamburgah, like we say at WWD!.......
Go check 'em go check 'em go!
Bumbye da next review..... Keep your toes in da sand and your shakas flyin' high!