Hoi! Awesome suggestions yesterday - Muchos Mahalos to all who dropped in and shared! I nevah get one chance fo' reply but going to latah today. No worries, I nevah fo'get da WWD! Hui!    
Going along with da theme from yesterday, da oddah oddah Saturday Da Wife and I were in da Ward area and repeated our "conversation" on where to eat lunch at.
We wanted to try some place different and lo and behold she picked (yeah, she picked cause I wouldn't have known anyways) two recently opened places in Ward. So we decided to check it out.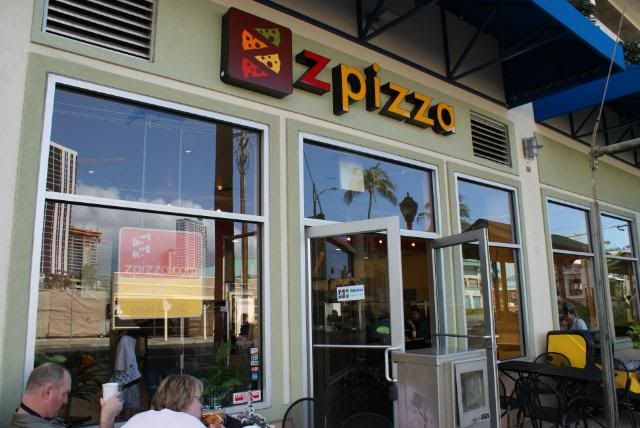 The first?  zpizza. No mispelling there. There's a "Z" in front. 
"zpizza is the leader in the gourmet and health-conscious pizza segment. We are a fast casual chain focused on delivering a fresh and unique approach to pizza."
As quoted from their website.
Here's their menu.........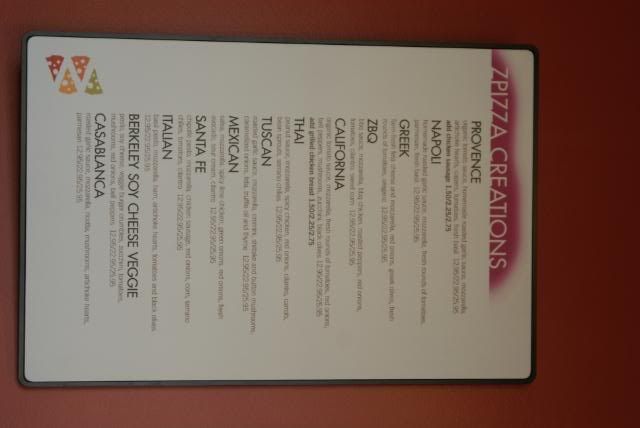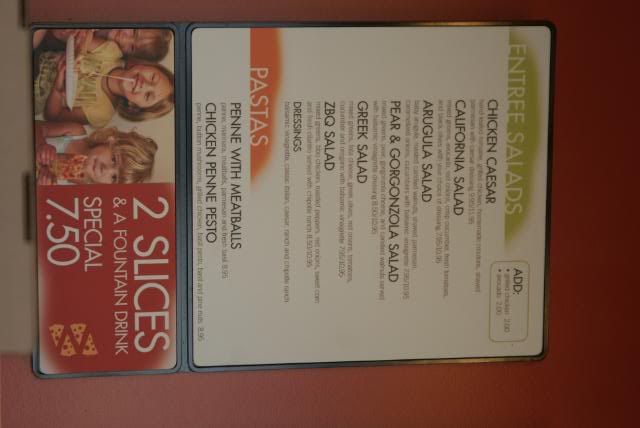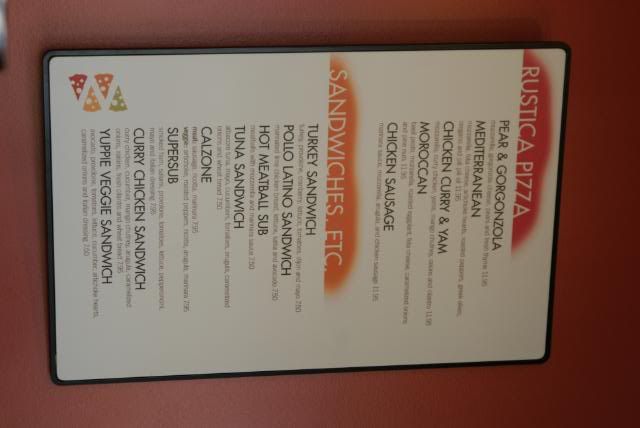 Here's da view inside............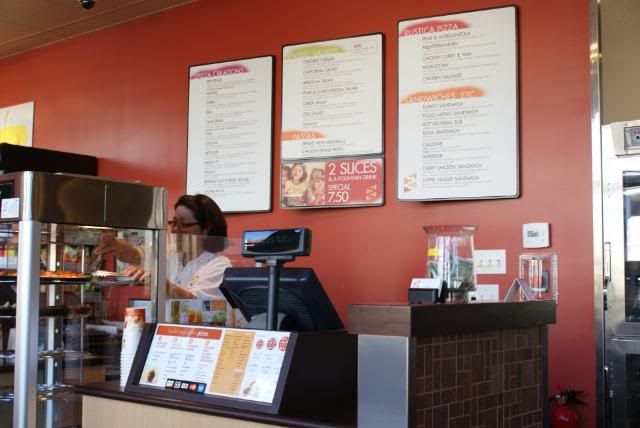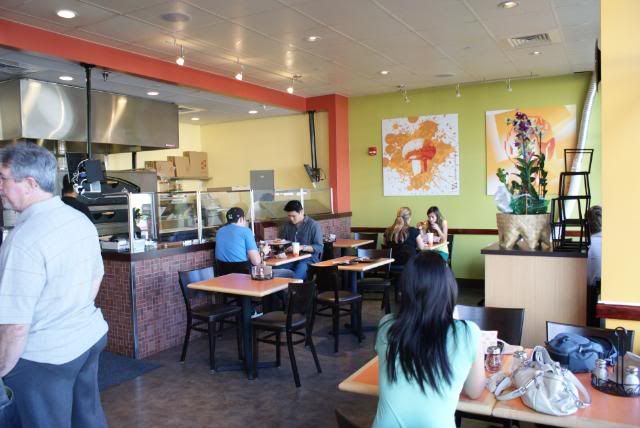 Can you spot Da Wife?  😀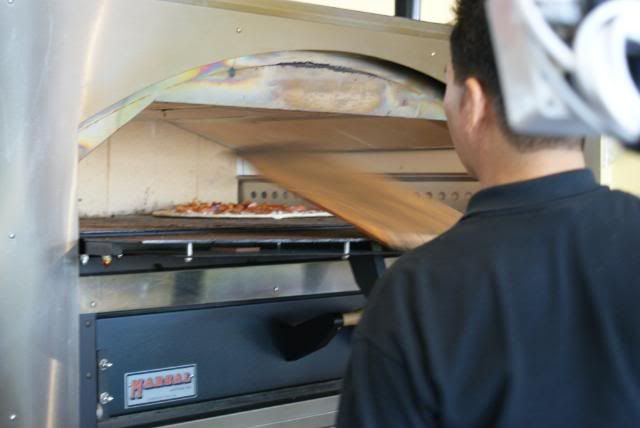 It's not a Brick Oven but it's one of those neat big "pizza" ovens.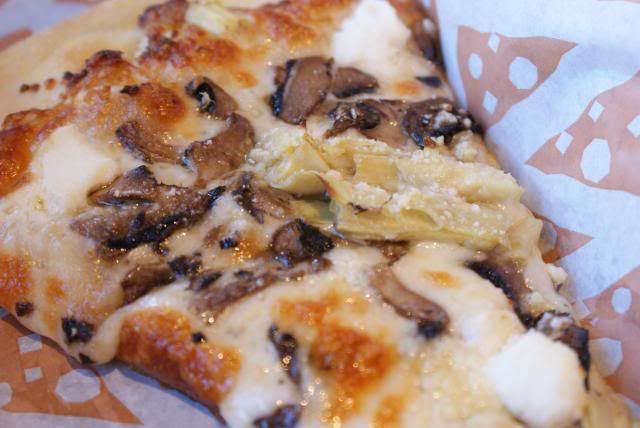 Here's our pies! I had da spinach artichoke slice.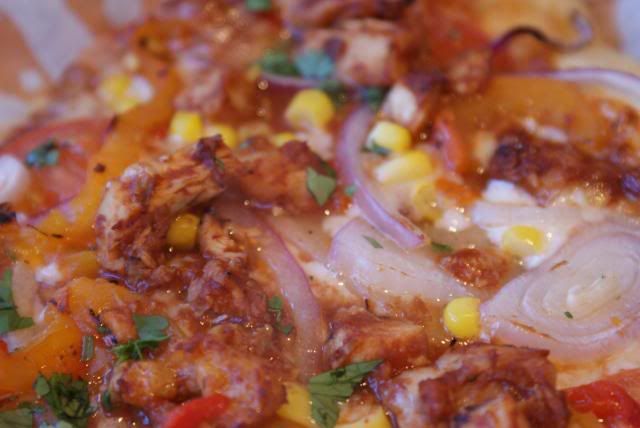 Da Wife had da ZBQ.
I gotta say, if you're in da mood for a slice of pepperoni or cheese slice you're going to da wrong place. You might as well go to sbarros.
Hmmm, just noticed dat sbarros has a "letter" in front of their name too....
Wassap Wit Dat!   😀
Back to da review. zpizza has a very eclectic (you like dat $5 word yeah?  😆    ) menu of pies. The spinach/artichoke slice I had was very flavorful and wasn't bland as I thought it "might" have been. The ZBQ was in a category in it's own if you like bbq sauce. The sauce wasn't overpowering and the ingredients - on both slices - appeared fresh. Like I said, it isn't your "pizza pizza" brand.
As a pizza fanatic - and I'm sure New Yorkers can vouch - what makes a pizza is da dough and da sauce. You got both and da rest is just icing on da... pie.  
  zpizza's crust wasn't too thick nor too thin and da sauce - from wat we ate - was ono. 
Oh yeah, they got salads and sandwiches as well but we nevah try 'em.
If you're into da funky fusion of fresh from da oven pies, then zpizza may hit da spot for you. While da price for a full pie is a little out of my range, da 2 slice and a soda meal is a deal for just $7.50 but there's a catch.... the slices are from what they declare is da pizzas of da day which changes daily.
So wat do they get on da Shaka-nack Meter?
Four shakas and an Au' right!
And since I'm always looking out fo' all da WWD! Hui, if you click on da link above to their website and take their survey (you can make stuff up since it's just rating by numbahs), you'll get a $5 off $10 bill coupon to use if you like check 'em out.
So with da coupon in hand, go check 'em go check 'em go! And do your part in helping stimulate da economy.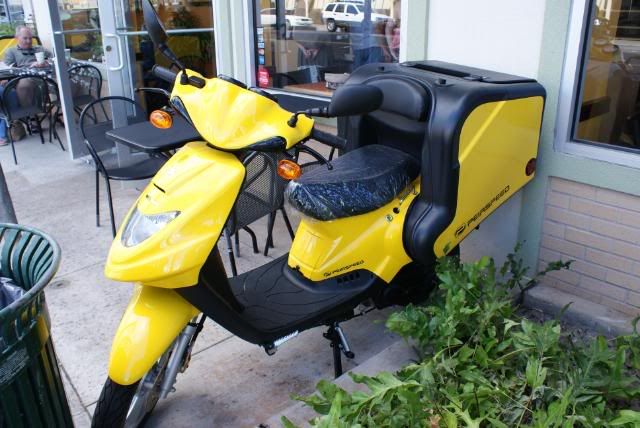 Oh yeah, they deliver too! Man, if I had one of these things back wen I was delivering on my motorcycle... it would have saved me from balancing da pies on my gas tank! Ai-goo.
Da second place we stopped right aftah was for dessert. I not a big dessert eater but Da Wife wanted to try dis place out since it opened so we walked ovah (had to burn off some of da pizza 
) to.........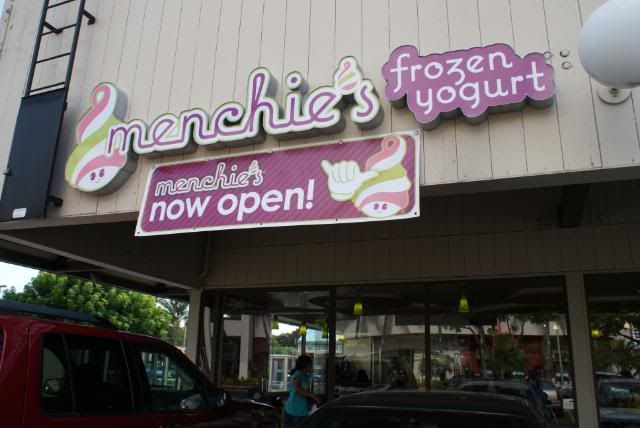 I'll just let your sweet tooth drool ovah da next pics.........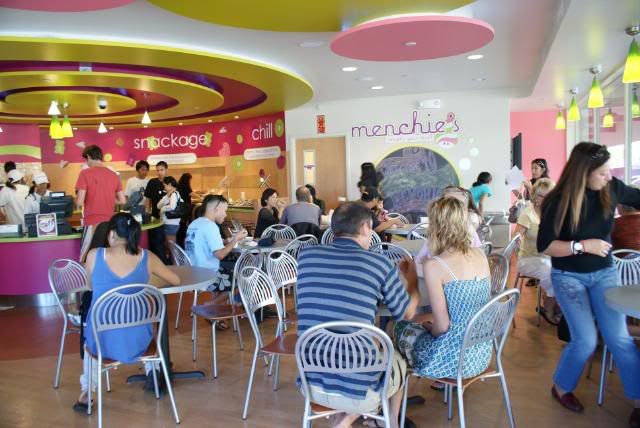 Inside was packed!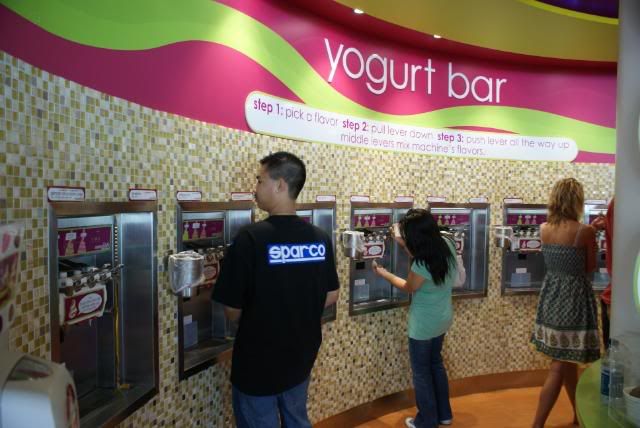 Can you spot Da Wife?    😆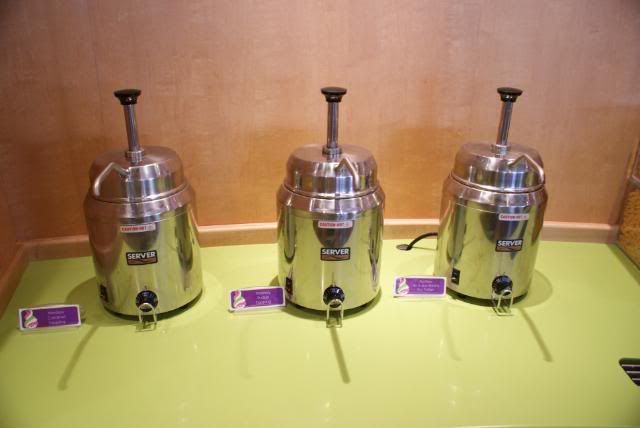 Da "hot" stuff like chocolate and caramel... dunno wat da last one was.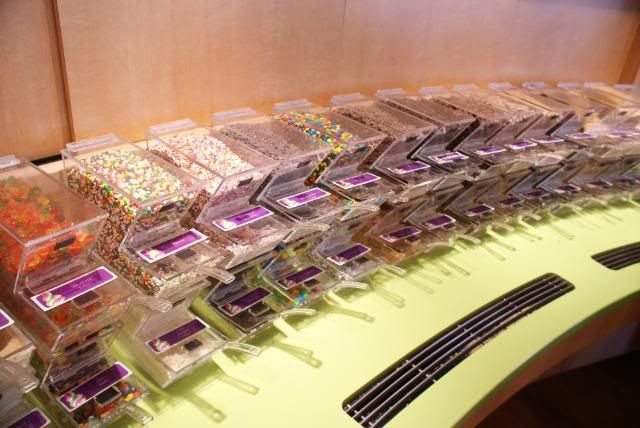 Can't fo'get da ukumillion toppings!
Had some fresh toppings as well.
Did I mention dat they make their own waffle cone?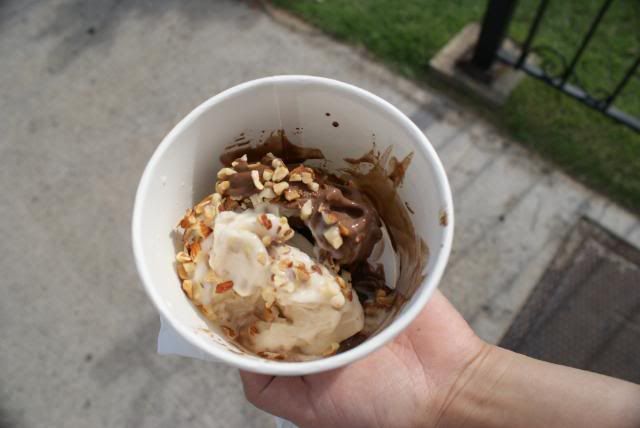 In all da haste, I fo'got to take a pictah.... so hea's one aftah we ate some. Fo'got wat we got but was good!    😀  
menchie's is just like Yogurt Land (I nevah been there but heard from da customers sitting down) wea get choke yogurt to choose from, top it off howevah you like and you pay by da ounce. I think ours one came out to little less than $5 but dat was for both our "creations" together.
If you get one sweet tooth you probably going like dis place. And I'm sure it'll be slamming during our hot and humid summer.
So wea they rank?
Four shakas and an Au' right!
Nice dessert quickie if you in da Ward area and if you like to make your own. If not, get Cold Stone Creamery down da street too and you can have them make it for you.  
Until da next review.... no give flack cause we like to kanack!