For those who haven't dropped into WWD! in awhile, we had anoddah Triad (MLC, O&E & WWD!) Pah-tay dis past Wednesday night at Fort Street Bar & Grill and it was great to see posters come out of their comfort zone and leave their computahs to enjoy a night of good food, good drinks and good fun.  😀
Pah-tay's like dis is weird because there's so much apprehensions in meeting people you have absolutely no idea who they are and calling each oddah by their screen name (well, for da "regulahs", they were on a "real name" basis already). Trust me, it is just as nerve wracking for us bloggers too because while words on a post are one thing, saying it live and in person is anoddah and as such you also have to be willing to "accept" dat any expectations you may have, might not be met considering it's "real life" and anything can happen.
While most of da attendees were Kwonics, MLC'ers and Hive Workahs, I got to meet a new blogger to da Advertiser blog scene. Uncle Rodney was da "emcee host" of da night introducing people left and right (sorry, you guys know I have a terrible memory and unless we meet a few hundred times I going forget) but dis one wahine in particular I NOT  going fo'get.
Uncle Rodney:   "Hey Lance! This is another blogger, Lori. She does the fitness blog."
BL:   "Holy crap! You're ripped! Your arms mo' big than mines! I feel shame now."
Lori:   *laughing*
BL:   "Sorry I nevah read your blog but I going if it makes me ripped like you!"     😆
Was good fun talking to her and I found out dat she also has three kids..... AND she's still ripped li'dat! HOLY CANOLI! (well I didn't use dat word at dat time but I no like get in trouble using it hea) And at one point, she came ovah to our table and asked if she could take a chair and I was about to help her until I sheepishly sat back down.
Wat happened?
She grabbed it. 😯
Da chair lolo's! Wat you thinking? 🙄 Ai-goo.
But da thing was dat wen she grabbed da chair, she ended up flexing. Hooooo boy. Put me to shame so das why I had to sit back down. 😳
I checked her blog out and was quite impressed with her knowledge about fitness and da results definitely shows.  *** Go check her out at Be Strong Live Strong by Lori Okami ***  Go check 'em go check 'em go check 'em go.
Well preparing for da pah-tay was like flipping a three sided coin. UR & Shauna was trying to decide on a Tuesday or Wednesday - even a Thursday. I tell 'em Tuesday no can, get softball. Thursday no can, get bowling. How come not on a Friday is still puzzling me cause I figgah most work during da normal weekday schedule and if you get all buss' ka-huli-huli, at least you can sleep longer da next day cause it's a Saturday. Dis went on for a few days before they decided on Wednesday.
During da pah-tay, people tell me I'm too loud. Then somebody say I too soft. They also said I was late. Then they said I was on time.... Hawaiian time. They say we pau at 10:00pm but we nevah leave till 12:00am - not dat I was complaining about dat... but da lights were flickering off and on for like five minutes before we caught da hint. Kim chee too hot. Not hot enough. Da only thing people agreed was at least da kim chee was ono.
Make up your damn minds! And you wondah why WWD! is all discombulated?
Wassap Wit Dat!        😆
Da pah-tay was supah good fun and I hope for those who joined us had a good time as well and for those who nevah come.... too bad, so sad.
Jus' joke.
Bumbye next time.
There were so much mo'olelo's to share dat no mo' space to write it in.... maybe those who were there like share?    😉
Hea's some pics from da pah-tay and no mind most of 'em eh? All's I know is dat whoevah was using my camera must have been like 4' 4" cause most of da pics was missing da head. I did learn one thing though, NKHEA cannot take pictures if his life depended on it. 😛
And to all da WWD! Hui (Kwonics, Lanceformers and Lurkahs) - Have a great Feel Good Friday!
SHOUT OUT:
Mahalos to Rodney & Shauna for putting da pah-tay together! All I was told to do was show up.
Muchos Mahalos to BananaFysh for da "goodie basket"! and to M & Masako for baking some wonderful cookies!
Muy Muchos Mahalo Nui Loa to NKHEA & IKHEA for sponsoring da food! It was VERY generous of you..... even though all Scott and I had was "leftovahs"..... ok, so we were just a tad late.    😳  
CLICK HEA' TO SEE TONS MORE PICS FROM DA PAH-TAY!
(Screen names were left out to protect da innocent)
Can you spot who got da cho-cho lips?
Brah! You like step outside?!
Jus joke!
Bathroom stay ovah there.
You know Queenie would have been salty if I nevah put dis pic in. 
Jus' havin' a li'l bit of fun. Uncle Rodney was mackin' wit da wahines so I had to jump in. 
Da spread! And dat was only a part of it too.
Da baby was sooooo cute! And I keep asking who da faddah is.......
Some of Da Kwonics!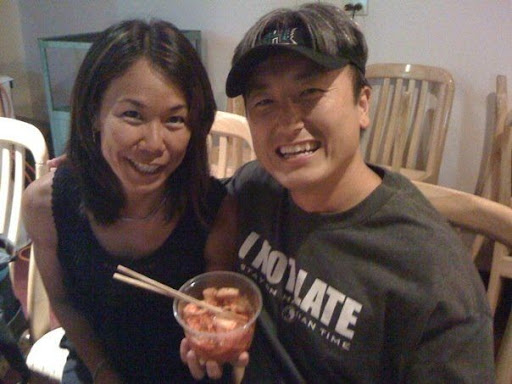 Dis is Lori from "Be Strong Live Strong" blog. She was frickin' ripped! Not da drunk kine cause she no drink but her arms were very chiseled. *BL jealous.... real jealous*
Photo credit: Melissa Chang
See! I dunno who was taking these kine pics. 
Muchos Mahalos to IKHEA & NKHEA!
Mahalos to BananaFysh for bringing my favorites straight from Maui! Peanut butter mochi and Maui Built!
Already pounded these cookies... Mahalo to M & Masako!