Honor And Respect
November 11th, 2012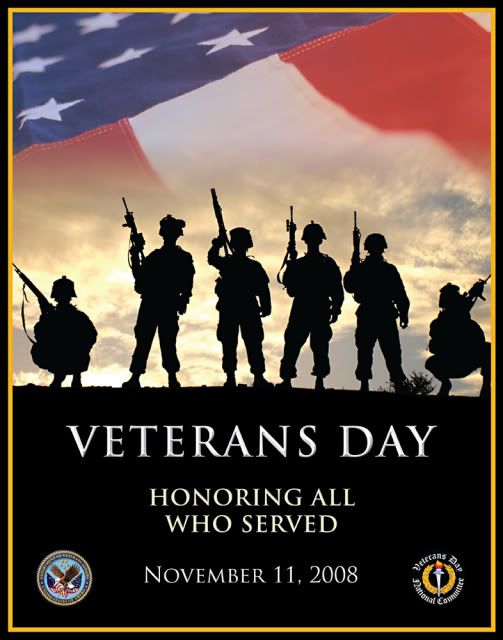 Just wanted to share a post that moved me a few years back in respect to all those who serve with honor and respect.
In case you haven't heard yet, today is Veteran's day... oh, wait... we'll notice that in a few moments by the number of posts left since everybody - well almost everybody - is off today. 😉
But seriously, today is all about our Veteran's - both active and retired.
It's about honoring and celebrating America's veterans for their patriotism, love of country, and willingness to serve and sacrifice so that we are able to live the way we do.
Sacrifice.
Now that's a big word.
How's about we add another..... life.
So how do you repay a United States Marine Corp soldier who sacrifices his life for serving his country and in the process saving his scout team as they cleared houses in Fallujah?
At the least... a medal no?
Not so in Sgt. Rafael Peralta case. Well at least not the Medal of Honor.
Nearly four years after Sgt. Rafael Peralta's death, his family was notified by Defense Secretary Robert Gates that the recommendation for Sgt. Peralta to receive the Medal of Honor - the highest medal of decoration awarded by the government - was "downgraded" to the Navy Cross, a distinguished medal itself.
From all accounts, as written in The Advertiser's Sep.9th article and Wikipedia, it's a wonder why the Medal of Honor was not awarded.
The reason seems to be that the investigators deemed his gunshot wounds were fatal before he had time to react in shielding the live grenade with his body (please read the article above).
How many stories have we heard before of incredible acts beyond possibility? People lifting vehicles to help trapped people or running through fire or even through great pain, still being coherent enough to act sensibly?
I cannot believe that the powers that award the Medal of Honor, even after being given sworn testimony from his team, could deny such an honor. Sgt. Peralta's men are the living proof since Sgt. Peralta is unable to speak on his own behalf.
A team member believes that because Sgt. Peralta was an immigrant who went through the naturalization process (became an U.S. citizen while serving in the USMC), he was denied. If that's the case.....
WASSUP WIT DAT!
WTF is more like it. I sincerely hope that had no weight to it because Sgt. Peralta did nothing but do it the right way! He loved the United States, got his citizenship, served in the Corp and paid the ultimate price for his enthused patriotism.
Granted, the Medal of Honor is not a recognition given out lightly (only 3467 awarded since the Civil War!) and thus takes years for it to be awarded but if the facts from the surviving scout team is true, then Sgt. Peralta certainly deserves it.
Sorry........ EARNED IT, by paying the ultimate sacrifice while saving his men!
OOH-RAH!
DA VETERAN WORD OF DA DAY! -

(in honor of Sgt. Rafael Peralta and the United States Marine Corp)
SEMPER FIDELIS
(also known/said as SEMPER FI)

Definition: "Always Faithful"
OOH-RAH
(pronounced the same)
Use: Responding to a verbal greeting or expression of enthusiasm used only by the USMC
* Originally was "AARUGHA" (like da horn) but simplified and shortened to Ooh-rah
(from Wikipedia)